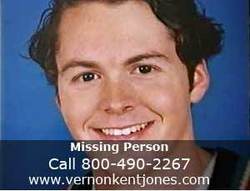 There are many resources dedicated to missing children, but not so much support for teens and missing adults
Monroe, NY (PRWEB) August 6, 2009
In January 1993, 24-year-old Vernon Kent Jones - a recent graduate of the University of North Carolina, known as Cameron to his friends - disappeared at approximately 6 p.m. after a day of New Year's Eve partying in an apartment in Manhattan's Lower East Side. Over the years, Vernon's heartbroken family has tried to conduct their own investigations (after the police were unable to make any headway) without success. In November of 2008, one of Vernon's younger brothers reached out to Robert Rahn, President and Director of Investigations with Management Resources Ltd. of New York, to see if he could make any progress using new investigative tools and technologies.
Rahn, who typically handles civil and criminal investigative projects from a range of corporate and private clients, took on this Missing Person Cold Case pro bono.
"It's very, very difficult to pick up a case like this, especially after a long period of time when many leads have moved around or passed away. I realized when I started working on SEO (search engine optimization) for my own website, that we could utilize Search and Social Media, as well as advances in DNA profiling, to reach more people and get Vernon's story out there; hopefully helping his family get some resolution," says Rahn who has established a web page for Jones' case on his own website. Rahn, his partner Kim Anklin and SEO specialist Kathy Fealy of KF Multimedia & Web, Inc. will be posting photos, videos and age progression art on TheyAreMissed.org, YouTube, Facebook and in optimized press releases.
Rahn has also enlisted Steve Siske, an Asheville, NC Private Investigator, to conduct follow-up investigations in North Carolina. Rahn, Anklin and Siske are attempting to re-interview the people who were with Vernon last on the night he disappeared: Margaret Miller, age 42, currently residing in Asheville, NC, Mark Zimmerman, age 41, currently living in New York City, along with a third individual, a 40 year old male living in New York.
Rahn, Anklin and Fealy, along with Lisa Buyer of The Buyer Group, a FL interactive PR and branding agency assisting in the missing persons case of Floridian Tiffany Sessions will be teaming up to present their respective work with viral and social networking spaces to the attendees and major Search Engine companies at an upcoming national Search Engine Strategies Conference in San Jose, CA, in August; as a national, organized portal for Missing Persons could help break many cases.
"There are many resources dedicated to missing children, but not so much support for teens and missing adults," says Rahn. "Our hope is to change that scenario, to help families and law enforcement professionals solve thousands of "cold" and new cases with the proper use of search & social media tools like Twitter, YouTube and Facebook."
Management Resources Ltd. of New York is a full service professional civil and criminal investigative firm with offices in Orange County, NY, Bergen County, NJ and New York City. Since 1994, they have handled mortgage insurance fraud, asset protection, trial preparation, corporate fraud, and missing persons cases, as well as armed security for sports figures, executives, dignitaries and actors. For more information about Management Resources Ltd. of New York, call 845-781-7233 or visit their website at http://www.managementresourcesny.com.
Additional Social Search Resources: Vernon Kent Jones, missing person cold case, NYC 1993
Images:
http://www.flickr.com/photos/managementresourcesny
YouTube Video Channel featuring videos about missing person cold case Vernon Kent Jones
http://www.youtube.com/missingpersonsPI
Facebook Cause: Help Find Vernon Kent Jones, missing person, NYC 1993
http://apps.facebook.com/causes/329732?m=27b8928d
Contact:
Robert Rahn, President/CEO and Director of Investigations
Management Resources Ltd. of New York
845-781-7233
http://www.managementresourcesny.com
###