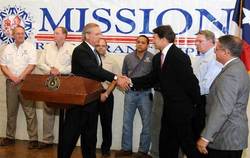 San Antonio, TX (PRWEB) February 1, 2010
The staff at Mission Restaurant Supply in San Antonio, Texas was very fortunate and honored to be graced with the presence of Governor Rick Perry on Tuesday, January 26, 2010. The governor wanted to share his beliefs on the changing economy and education system here in Texas, and meet with the people that are going to experience the changes firsthand. His goal is to earn the trust of residents of the state of Texas and to keep in close contact with the people that will help make our future brighter. He was joined by state representative Frank Corte Jr. from District 122, who will not be running for reelection, but who will be supporting the Governor in his next campaign.
Governor Perry made it clear that he will not rest until every citizen that wants a job has one. To date, Texas has one of the strongest economies in the country and it is continuing to flourish as we move into 2010. Creating more jobs in multiple fields is at the top of the priority list. The governor believes that our government does not create new jobs, but the driven entrepreneurs of our great state do. Mission Restaurant Supply and its owner, Mr. Jack Lewis, were recognized as a strong, independent entity that has continued to see substantial growth and has been able to provide a number of jobs to Texas citizens over the years. Governor Perry hopes to attract even more of the best businesses, researchers, and capital investments to Texas.
Another of Governor Perry's concerns is to better the education system in a number of different ways. One of the most recent things he has done was promote the $100 million STEM Challenge Scholarship initiative. This money will help students that are pursuing degrees in science, technology, engineering, and mathematics receive the education they need to compete in the global workforce.
Despite the fact that Washington D.C. continues to struggle during these hard economic times, the state of Texas will continue to prosper and be prepared for changes. While everyone else was spending more money than they had, the Texas state legislature made sure to leave more than $8 billion in a state fund that would be there in case of a rainy day. The Governor assured us that we can stay calm and in control when it comes to planning our future here. The Lewis family and the employees of Mission Restaurant Supply also want to assure the citizens of Texas and its customers that it will continue to live up to the high standards that it has adhered to for more than twenty years.
About Mission Restaurant Supply:
Mission Restaurant Supply was formerly known as Mission Ice Equipment Company. The name was changed in 2001 to represent our focus on restaurant equipment and supplies. Mission Ice Equipment Company was formed in San Antonio, Texas on March 1, 1988 as a division of Mission Party Ice. We began the operations in the San Antonio market as primarily an ice machine and commercial refrigeration sales and leasing company. It was a natural transition from the traditional ice delivery company and the ice machines complemented our ice delivery business. We expanded our operations into the Austin and Corpus Christi, Texas markets as Mission Ice Equipment Company. As our customer based rapidly increased, the requests for a wider variety of products also increased. We specialize in sales and leasing of ice machines and commercial refrigeration equipment, but expanded into the restaurant equipment and supply segment to satisfy continued requests from our customers. Ice machine and commercial equipment is still a large important part of our business, and the decision to expand into a full service equipment and supply dealer has had a positive impact on our company. We also have a blog where we like to keep our readers informed on the latest restaurant equipment and supplies.
###