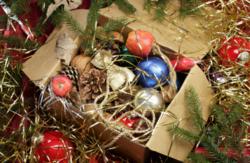 When you compare the most meaningful traditions and special moments with how the holiday budget was spent, it's an eye opening exercise.
Mission, KS (PRWEB) December 28, 2012
Christmas may be over but, for many, the process of paying for it has just begun. Credit card bills will be arriving soon, and people will be dipping into savings or living in austerity mode while paying down their Christmas bills over many months to come.
Christmas is a time for giving and sharing, but when all is said and done many people end up associating the holidays with resentment and guilt about overspending, rather than the joy and renewal the season promises.
To keep next Christmas' spending in perspective, Sharon Weaver, owner of Mission Financial Planning, recommends a Christmas debriefing while memories are still fresh. "Reminisce about the holidays. What does your family look forward to, and what do they dread?" She recommends writing down the best memories from over the years, along with favorite foods and must-have traditions. Next, she suggests tallying up the money spent on this recent holiday season. Include the cost of special events, foods, gifts, decorations, shipping and postage, travel, charitable contributions and extras bought for oneself while shopping for others.
Sharon observes "When you compare the most meaningful traditions and special moments with how the holiday budget was spent, it's an eye opening exercise. If you're happy with the amount you spent and how you spent it, divide that number by 12 and begin setting aside that much each month into a Christmas escrow account or envelope. Next year have Christmas paid for in advance, and enjoy being intentional about Christmas spending."
More often than not, however, tallying expenses will add up to an uncomfortable surprise. Sharon recommends the following first steps toward a more intentional Christmas in years to come.

Stop worrying about others' expectations and perceived obligations
Focus holiday time and money on what is truly of value to you and your family.
Make a list of events or spending you are willing to skip next year.
To make changes in how money is spent during the season, try incorporating some of these tips for purposeful spending:

Consider giving necessities as gifts, teaching that things we need shouldn't be taken for granted. Waiting to receive, rather than getting whatever is needed immediately, can be a great lesson for kids and adults alike.
Pool money to purchase a family gift rather than individual gifts.
Give gifts that encourage experiences and interaction, and create memories. The gift could be a project, travel, or concert tickets, for example.
Agree on spending "cease-fires" or maximum amounts spent per person. Setting giving limits is a great way to avoid the escalation of competitive gift giving.
Rather than all adults buying gifts for each other, pick a name from a hat.
Better yet, limit gift giving to children; adults shouldn't need "things" to make their season bright.
To add meaning to the season, add some selfless spending to next year's Christmas list.

Consider dedicating next year's giving to a family less fortunate.
Identify a charity and donate or volunteer as a family, discussing and agreeing on the impact you would want to have between now and next Christmas.
Spend time next Christmas reminiscing about the people impacted and differences made to others throughout the year.
Most importantly, reflect on the spiritual aspects of the holiday and nurture your family's faith. At its core, Christmas is not about spending. If Christmas has become too expensive or materialistic, or is simply out of alignment with the holiday you truly desire, this is the time to assess and make intentional changes. Taking time to debrief and plan ahead can make next year's Christmas more meaningful, enjoyable and affordable.
Mission Financial Planning is a fee-only financial advisory firm that creates and monitors financial plans for dentists across the U.S. The firm takes a comprehensive approach, consulting on personal and small practice financial planning. For more information call 913-948-9694 or visit http://www.missionfinancialplanning.com.
Fee-only financial advisors are compensated solely by the client with neither the advisor nor any related party receiving compensation that is contingent on the purchase or sale of a financial product.