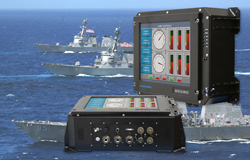 The addition of this fully qualified series of products provides a full range of 19" offerings. The MV190 also provides a direct replacement for our legacy 9590 series products. - Keith Vreeland, Business Development Manager
Milford, MA. (PRWEB) September 22, 2014
Comark, a leader in the design and manufacture of rugged computer and display solutions for the military and mobile markets has successfully completed environmental testing of its new 19" Military Workstation & Display including MIL-S-901D Grade-A Heavyweight Shock Test.
The MissionVue MV190BC is a 19" sealed & fan-less bulkhead workstation developed for the DDG 51 Repair Station Consoles. As with all Comark products, the new MV190BC is designed with the latest technology including the current Core i7 processor, LED backlit display, and integrated speakers. Included in the system level testing was the MV190BD, display only version in the new bulkhead product series. Both units incorporate the MV190D 19" display used in the DDG 51 Universal Control Consoles (UCC) providing the Navy with a single common replaceable display. Manufactured in the US, the MV190 product series uses long lifespan components to ensure multi-year availability for sustainability in all Navy applications.
Comark's Business Development Manager Keith Vreeland adds "The addition of this fully qualified series of products provides a full range of 19" offerings. The MV190 also provides a direct replacement for our legacy 9590 series products. This HMI line will further enhance our suite of military products while expanding our Navy presence."
About Comark
Comark designs and manufactures high-performance, rugged computer and display solutions for mission critical military, marine, life safety, automation and control applications. The company is driven by innovation with over 35 years of computer and display solutions and over 80,000 systems fielded.