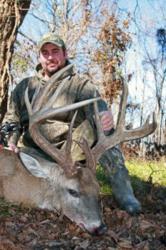 You won't believe it: I killed another one like the one I killed last year. Something bad is about to happen.
Fayette, Mississippi (PRWEB) January 12, 2012
Mississippi Sportsman Magazine has just published the story about Will Rives taking a second pending state-record archery buck in Jefferson County, MS. The deer is estimated to score 187 inches P&Y. Rives is familiar to Mississippi Sportsman, though, because last year the story of his 172 inch P&Y buck was published in the magazine. Rarely is a hunter lucky enough to get one state record, never mind two in two years.
Rives is a dedicated bow hunter, who frequently hunts from climbing stands and lock-ons, and uses calls to draw in the deer. Obviously his techniques are effective, and the land he hunts is productive.
Rives provided details of his hunt to Mississippi Sportsman.
"I just started looking around, and I found an acorn tree with tracks under it," he said. "I figured if does are coming to it, the bucks will be there, too."
Of course, it helped that he had a suspicion there was a big buck in the area.
"There was one big track under the tree," Rives said.
So he set up his stand, and jacked up the tree about 2 p.m. on Jan. 2.
Rives finally saw the deer walk out slowly, and he instantly knew it was a 180 class buck. He had to wait for the shot with his bow drawn for a few minutes and had to squat in his stand to shoot through a small opening, when he finally arrowed the deer at approximately 23 yards.
"I called my wife and told her, 'You won't believe it: I killed another one like the one I killed last year. Something bad is about to happen,'" Rives laughed. "To be lucky enough to kill two of them, I don't believe it.
"The odds of that is about the odds of winning the Power Ball."
The buck carried a rack featuring five points off the left main beam, with six on the right. A kicker off left brow tine made it a 12-point.
The bases measured 6 to 6 1/2 inches around, and carried the mass very well.
About Mississippi Sportsman
Mississippi Sportsman Magazine, and MS-Sportsman.com are the leading source of outdoors information for the State of Mississippi. MS Sportsman publishes year-round stories and news items on hunting, fishing, and other outdoorsman related topics. The free classifieds and forums on MS-Sportsman.com are also popular places for website visitors.
###