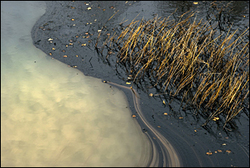 Our firm is in the business of helping those who have been harmed by the actions of others. Every day, we fight the largest corporations which attempt to trample on the rights of ordinary citizens. We have a long track record of success----because we treat each client with the dignity they deserve, and we will not rest until our clients have obtained justice
Birmingham, AL (Vocus) May 6, 2010
Oil from the Transocean Deepwater Horizon oil rig reached the Mississippi coast on Tuesday, May 4, 2010 in small amounts with more expected over the coming days. While many Mississippi property and business owners near the Gulf Coast are beginning to feel the impact of the spill, Mississippi oystermen, shrimpers and other fishermen have already been sidelined due to the federal ban on fishing in the oil spill-affected waters. Oil spill attorneys are helping Mississippi fishermen attempt to earn an income during the fishing prohibition without waiving any rights they may have if their loss of income extends beyond the 10-day federal fishing ban. BP is hiring Mississippi fishermen and others to assist in the oil spill cleanup process, which caused an initial controversy over BP's multi-page contract leading to Homeland Security Secretary Janet Napolitano's request that BP stop issuing the documents. The agreement required a 30-day written notice for vessel operators to pursue any claims against BP, among other things.
"Our firm is in the business of helping those who have been harmed by the actions of others. Every day, we fight the largest corporations which attempt to trample on the rights of ordinary citizens. We have a long track record of success----because we treat each client with the dignity they deserve, and we will not rest until our clients have obtained justice" stated Lewis Garrison, a founding member of Heninger Garrison Davis, LLC, and one of the oil spill attorneys handling cases in Mississippi.
Although only small amounts of oil have reached shore, the chemical dispersants that are being used to keep oil from reaching the surface and mitigate its landfall may pose an additional problem for the seafood industry. Several of the components comprising the dispersants are known to be toxic, which could possibly impact this season's catch and beyond. Should this occur, Mississippi oil spill attorneys will be able to help Mississippi fishermen in their attempt to recover those losses.
About Heninger Garrison Davis, LLC
Heninger Garrison Davis, with offices in Birmingham, Alabama and Atlanta, Georgia, is a General Civil Trial Practice including Personal Injury, Wrongful Death, Commercial Litigation, Consumer Fraud, Trucking Accidents, Products Liability, Medical Malpractice, Fraud, Insurance Litigation, Patent Litigation, Toxic Exposure Litigation, Asbestos Litigation, Social Security, Patent Litigation, and Workers' Compensation law. The Mississippi oil spill attorneys of Heninger Garrison Davis, LLC are familiar with complex environmental hazard litigation, representing over 1,000 individuals in Calhoun County, Alabama who have been harmed by PCB pollution.
###