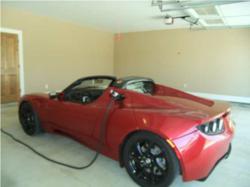 Mississippi Solar decided to develop the Mississippi Solar Ready Home™ program to allow homeowners an option to easily add solar and electric vehicle charging solutions once the regulatory obstacles are resolved
Jackson, MS (PRWEB) March 20, 2012
This Mississippi Solar Ready Home™ located at 2 Eastparke Cove in Jackson, MS is built to afford the homeowner the option of easily installing solar. This recently completed home is pre-wired for both solar and electric vehicle charging. Projected data for solar energy harvest is available based on a solar site survey conducted by Mississippi Solar. The survey verifies the home is optimally sited with adequate un-shaded, south-facing roof area suitable for a large solar array on the off street side of the property.
Additionally, the spacious 3 car garage has been wired for both phase I and phase II electric vehicle charging stations. A benefit which Will Hegman, with Mississippi Solar, took advantage of by charging up his "all" electric car while attending the recent Brokers Open House held by Charlotte Smith Real Estate. According to Will Hegman, "The homeowner of this property could produce sufficient electricity from the sun to power an electric car for over 20,000 miles per year. This could yield an annual fuel savings of approximately $2,600 per year for the next 30 years based on current fuel prices. Under this scenario, the payback for the solar array would be roughly 5 years."
Although Mississippi has abundant sunshine and solar installation costs have dropped significantly in the past few years, the economic incentive for installing solar for most Mississippians is currently missing. According to Mississippi Solar owner Carolyn Hegman, "Over 80% of solar inquiries come from non-TVA resident Mississippians, but less than 10% of our actual solar installations are outside the Northeast Mississippi TVA coverage area. Currently, the economic solar incentive is not available for Mississippians outside the TVA area. Mississippi Solar decided to develop the Mississippi Solar Ready Home™ program to allow homeowners an option to easily add solar and electric vehicle charging solutions once the regulatory obstacles are resolved."
Solar and EV ready options may not be relevant to the majority of Mississippi homeowners today, but we live in changing times. The option of adding solar or EV charging in the future without having the expense and inconvenience of re-wiring the home and upgrading the electrical service simply makes sense. This Mississippi Solar Ready Home™ built by T.J. Couch Properties, Inc. and offered by Charlotte Smith Real Estate sets the mark for innovation.
About Mississippi Solar
Mississippi Solar is the State's leader in renewable energy solutions. The Company is a one stop resource for design and installation of solar systems and electric vehicles charging stations, and is a dealer for leading manufacturers of solar panels, inverters and electric vehicle charging stations. The owners and managers believe in solar solutions and each team member has installed a personal home solar system.
Contact Info-
Carolyn Hegman
Mississippi Solar, LLC
601-656-6161
http://www.mssolar.net
Carolyn(at)mssolar(dot)net
Property Info-
Kathleen Rushing
Charlotte Smith Real Estate
601-832-9999
http://charlottesmith.com
kittyrushing(at)hotmail(dot)com