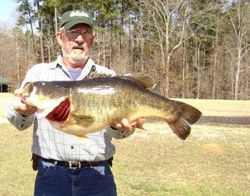 I had every intention of releasing the big fish, but the lake manager told me that she wouldn't make it if I turned her back
Crystal Spring, MS (PRWEB) March 6, 2011
This week Cliff Covington of Mississippi Sportsman interviewed James Allen after he landed a bass at Calling Panther Lake that came in at 26 3/4-inch-long bucket mouth that weighed in at 15 pounds, 4 ounces. James Allen who is a resident from Crystal Springs was heading to Calling Panther Lake on Feb. 26 after his neighbor David Howell had just broken the Calling Panther Lake record the previous weekend catching a 27 ½-inch-long, 14-pound, 1-ounce bass. James Allen was fishing with live bait which he only does three or four weekends a year. He states his fellow anglers give him a hard time for not using artificial lures. He went with what he knew to work and shattered the record broke the previous weekend by over a pound. The lake manager informed him though the giant bass would not survive because it had been foul hooked.
Mr. Allen decided to hold on to the fish instead on returning her back to Calling Panther Lake.
"I had every intention of releasing the big fish, but the lake manager told me that she wouldn't make it if I turned her back," Allen explained. "I figured she would be better off displayed on the wall of my den than ending up as turtle food, so I took her on to the taxidermist."
No one knows for sure how long the record will stand but James Allen is saying he is sure it will be sometime in the near future. Since his record breaking catch the 67-year-old angler has already been back on Calling Panther trying to beat his own record. To read the entire article on this story, visit http://www.ms-sportsman.com/details.php?id=895.
Mississippi Sportsman is the leading source for hunting and fishing news on the web and through our print magazine distributed throughout the state. For more information, visit MS-Sportsman.com.
###