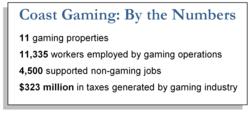 No one could have envisioned the metamorphosis of small river boats into full scale resorts. It has exceeded everyone's expectations. It started as an experiment…and we got it right.
Biloxi, MS (PRWEB) May 08, 2012
As gaming industry leaders from across the country converge in Biloxi, Miss., this week (May 8-10) for the Southern Gaming Summit, their arrival hits just a few months shy of the 20 year mark of the first casino opening its doors in a state known more for negative perceptions than economic progress. For two decades, the gaming story on the Mississippi Gulf Coast—with Biloxi as its core—is one of economic and cultural growth, serving as the catalyst that allowed this laid-back coastal region to grow despite experiencing the country's catastrophic natural disaster with Hurricane Katrina, major environmental disaster with the Gulf oil spill and the worst economic downturn in decades.
Twenty years ago, legalized gaming arrived on the Mississippi Gulf Coast with the docking of two riverboats side-by-side in Biloxi. Vegas it was not. The vessels, Emerald Lady and Diamond Lady, offered at best tight, cramped quarters and any first-class, land-based amenities were years away.
Fast forward to 2012—today the Mississippi Gulf Coast is a destination tourism market and home to first-class resorts, nationally-acclaimed golf courses and headline Las Vegas-style entertainment on a weekly basis. Without question the stimulus for this development has been a growing, evolving gaming industry that has designed and developed properties that attract customers from across the U.S.
"It is mind boggling to think it has been 20 years since the inception of gaming," says Larry Gregory, executive director of the Mississippi Casino Operators Association and former executive director of the Mississippi Gaming Commission, the state agency overseeing the gaming industry. "I have been affiliated with gaming for 16 years now and have witnessed up close the miracle it has become. No one could have envisioned the metamorphosis of small river boats into full scale resorts. It has exceeded everyone's expectations. It started as an experiment...and we got it right."
For an industry whose winnings and losses are based on numbers, consider this:

Mississippi Gulf Coast casinos attracted more than 15.6 million patrons last year. Roughly 75 percent of those visitors were from out of state.
The area is ranked #8 in the Top 20 U.S. Casino markets by the American Gaming Association.
Those two cramped boats have now given way to 11 full casino resorts offering a combined 5,598 hotel rooms, with a majority of those overlooking the waters of the Gulf of Mexico. Guests can also patronize the spas, fine dining restaurants and headline shows and concerts.
Because of casino developments, the area now has 19 championship golf courses by top course designers. Five of these courses are ranked among Golfweek's top 50 casino courses nationally.
The Mississippi Gulf Coast's existing tourism offerings—from small hotels and local restaurants to attractions—have enhanced their product to meet the expectations of the expanded variety of people now visiting the area. There are close to 300 festivals and special events each year, and a new ecotourism segment is burgeoning.
The industry has created a domino effect that has positively affected tourism and economic development. Need an example? Here's just one of many: The Beau Rivage Resort and Casino built the pristine Fallen Oak golf course, which attracted the PGA TOUR Champions Tour to south Mississippi. This year's Mississippi Gulf Resort Classic, won in March by former Masters' champ Fred Couples, drew record weekend crowds and was broadcast live nationally on The Golf Channel. This enabled local tourism officials to showcase the area's beaches, fresh Gulf seafood, deep sea fishing, museums and outdoor activities. As a local Sun-Herald editorial notes, "It's an event that means millions of dollars for the Coast, and one that helps spread the word far way about all the attractions we have to offer."
The benefits aren't limited to tourists visiting the area, as the local communities and their citizens have new opportunities because of this hospitality industry.
Casino tax dollars have remodeled or rebuilt every public school in the two coastal counties with licensed casinos. City of Biloxi schools have received more than $90 million and the Harrison County schools $45 million.
At the March Job Fair for the new Margaritaville Casino & Restaurant, set to open May 22, close to 3,400 people waited in line for hours to apply for 1,200 available jobs – with 8 out of 10 of those applicants currently unemployed. While having Jimmy Buffett's brand come to the area where he got his musical start is certainly a draw, the interest level shows the impact of casino employment for local workers.
Probably at no time did the gaming companies' commitment to the Mississippi Gulf Coast prove more vital than following Hurricane Katrina. When the storm hit in August 2005, Mississippi Governor Haley Barbour described it as "the hand of God had wiped away the Coast – in some places for blocks, in some places for miles."
The casinos, like most Coast businesses, were forced to close their doors. But instead of abandoning the Mississippi Gulf Coast, they worked feverishly to renovate their properties, put employees back to work and in just months—not years—reopen and start bringing tourists back to the area.
"We had 18,000 people out of a job because the casinos were closed, and it was imperative that quick action be taken," explains Gulfport Mayor George Schloegel. "Jerry St. Pé, chairman of the Mississippi Gaming Commission, jumped on a plane to Las Vegas to meet with the corporate executives of the casinos that had been wiped out. At the same time, the Governor called a special session of the legislature to change the law that limiting casinos in Mississippi to be built on water to allow them to rebuild on solid ground. In just eight days, we got the bill passed and signed. Jerry was able to report that to the casino executives back in Las Vegas and construction began.
"It saved an industry vital to the Mississippi Gulf Coast and saved 18,000 local jobs," adds Mayor Schloegel. "Mississippians showed our commitment to our gaming industry, and the industry showed its commitment back to us."
In the eyes of many, nothing has had a bigger impact on the Mississippi Gulf Coast in the area's 313-year history than the launch of the casino industry in 1992. While the financial impact is obvious by the capital investments and the thousands of jobs created, the quality of life has been enhanced by the expansion and additions of other tourism-related businesses such as restaurants, outdoor recreation, small hotels, museums and festivals. Dozens of casino executives have made the Mississippi Gulf Coast their home and provided extensive community leadership, and millions of dollars have been donated by the industry to local social, educational, cultural, community and economic development organizations. Positive impacts and progress that did not exist for this region just two decades ago.
About Gulf Coast Regional Tourism Partnership
The Gulf Coast Regional Tourism Partnership is a non-profit entity formed to administer $16 million in tourism marketing and grant funding from BP America. The Partnership board is comprised of business, tourism and community leaders from across the three counties that make up the Mississippi Gulf Coast and is charged with promoting the entire Coast – Jackson, Harrison and Hancock Counties – as one tourism destination.
About GodwinGroup
GodwinGroup, with offices in Jackson, Miss. and Gulfport, Miss., serves clients nationwide. It has been recognized numerous times among the nation's leading agencies by Ad Age and AdWeek. GodwinGroup provides branding, advertising and reputation management services, as well as Web marketing services through its digital arm WebMetro/Godwin. For more information, visit http://www.godwin.com and http://www.webmetrogodwin.com.