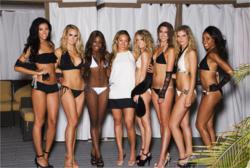 Hollywood, CA (PRWEB) May 02, 2013
Sought after swimwear designer Miss Kinsman, will be featured this Friday, May 3rd at 'Rock That Fashion.' The lucky few, will be able to experience this event at it's newest home, Boulevard3 located at the old Hollywood Athletic Club: 6523 Sunset Blvd, Los Angeles, CA 90028.
Rock That Fashion celebrates the fusion of music, dance, fashion, art, and pop culture at its best. Everyone knows that when it comes to a good production, A&M is sure to deliver an experience guests will for sure remember.
Doors open at 8:00PM with red carpet arrivals and press up until 9:30PM. Guests will enjoy sites and senses in the open aired courtyard under the stars, where they can enjoy a cocktail & mingle with other familiar faces and guests as well. All guests will have an opportunity to interact with the designers, merchandise, and get to know the sponsors for the evening out in the courtyard. Seating inside the Grand Room will be at 9:30PM. First showcased designer (Haute Couture) will start at 10PM with following designer showcases of swimwear and lingerie lines at 11PM & 12 midnight that. During the showcases there will be plenty of fun happening with a live DJ and live entertainment keeping guests engaged.
One of the featured swimwear designers will be Miss Kinsman SWIM designed by Joanna Kinsman. Miss Kinsman SWIM is a perfect blend of sophistication and design; bringing together close attention to detail, sleek Brazilian cut bottoms, and an array of flattering silhouettes adorned with ruffles and lace.
Be sure to visit MissKinsman.com to see some of the most fashion-forward looks for the beach or resort, and join the newsletter to attend the next runway show.
VIP Tables and Bottle Service is available by contacting AlexisAandMProduction(at)gmail(dot)com All tables will likely be sold out by the night of the event. Please make arrangements prior to attending the event so that the RSVP to Boulevard3's VIP services can be submitted.
THE VENUE: Boulevard3
Designed by the late Greg Jordan, former designer to the Trumps and New York socialites, Boulevard3 was conceived as "an English manor house with modern insides," a mix of old-world charm and digital generation appeal.
An intimate "manor library" takes guests inside Boulevard3. Gaining a sense of grandeur with its vaulted ceiling and marble fireplace, the library blends old and new through the art on its walls: ornate picture frames with DLP projection screens.
The intimacy of Boulevard3's library opens to a 7,500-sq. ft., three-level ballroom, including a 1,500-sq. ft. dance floor. Capable of accommodating a large stage for live performances, the ballroom features a main bar situated beneath 30' high ceilings and a majestic skylight.
Around the periphery of the ballroom, a Mezzanine is set three feet above the main floor that provides a perfect locale to experience dance floor festivities. For the perfect mix of luxury and comfort, the mezzanine boasts a 36' long plush velvet couch with unobstructed views of the "Niche of Possibilities". Ranging from innovative cirque performances to full choreographed shows, Boulevard3's guests are provided an unforgettable experience.
Joanna Kinsman, Founder
Miss Kinsman SWIM
http://MissKinsman.com
ph. 213-290-3776
Joanna (at) MissKinsman (dot) com
"Joanna Kinsman is Proud to Support The HOME Foundation"
About The HOME Foundation:
The Helping Others Means Everything, or The HOME Foundation, is a not-for-profit organization dedicated to helping our Family of Charities. Frankie Verdugo, President of The HOME Foundation, wants to help as many worthy charities as possible as they struggle during these tough economic times. Frankie Verdugo helps raise funds through luxury dream home raffles, home giveaways, prizes, and high profile celebrity events in Hollywood... "Our mission is to help charities reach their fundraising goals and to bring awareness to their praiseworthy causes."