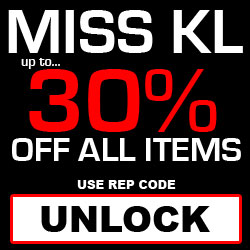 extra savings by entering both promo code and rep code at checkout
Boston, MA (PRWEB) November 23, 2012
Karmaloop's ladies-only site, Miss KL, is proud to announce its Black Friday mega sale – up to 31% off on clothing, footwear, accessories, intimates, makeup, electronics, home décor, art, toys, and children's items.
But shoppers need to enter two codes at checkout to get the max 31% savings.
31% OFF + FREE Shipping (orders over $300)
26% OFF + FREE Shipping (orders over $150)
21% OFF + FREE Shipping (orders over $75)
16% OFF + FREE Shipping (all orders)
Shoppers must enter miss kl promo code: BLKJACK combined with miss kl rep code: UNLOCK
In the United States, the biggest shopping day of the year is Friday after Thanksgiving. Crowds line up outside malls as early as midnight to snag great bargains from their favorite brands.
Miss KL is offering shoppers the convenience of rummaging through hundreds, or even thousands, of deals from the comfort of their own bed. No more jockeying for position, trying to get in front of the line in a chilly night. And no need to go through hell with riot police, who are often called for crowd control during Black Friday.
This coming Friday, all Miss KL orders get a 15% discount plus free shipping. Orders over $75 get 20% off, orders $150 and up get 25% off, and orders over $300 get a whopping 30% discount.
The Miss KL 2012 Holiday Gift Guide offers plenty of choices in lingerie, bags, beauty, partywear, jewelry, stocking stuffers, luxe gifts, and bundle up items. For those who cannot decide what to buy, Miss KL gift certificates are the way to go. Also sister site PLNDR has huge black friday deal by entering the plndr promo code at checkout.
Miss KL has also launched a photo contest for girls who love nail art. Post those perfectly manicured claws on Instagram with the #NailAddiction hashtag and get a chance to win a limited edition NCLA holiday pack.
Apart from its Black Friday Coupon sale and holiday #NailAddiction contest, Miss KL is giving away $10 to every customer who signs up for its E-list. There's also an ongoing promo that offers $25 off on purchases over $145 plus another $25 on the next order. Shipping to the US and Canada is free, while international orders get $8 off on shipping.
Karmaloop has made it easy for the ladies to shop on the go – or during Thanksgiving festivities – through its exclusive Miss KL app for iPhones and Android devices.
About MissKL.com
MissKL.com is the ladies-only sister site of Karmaloop.com, global streetwear giant and leading voice on media, fashion, and culture for the internet generation. The women behind Karmaloop are now bringing their industry prowess, know-how, and loyal following to this exciting new endeavor. MissKL.com is more than just a retailer – it's a destination for like-minded ladies who give meaning and vitality to the Miss KL philosophy. A product mix of playful to sophisticated and street to chic is offered alongside editorial content including shoppable lookbooks, curated boutiques, interviews, and killer content. From inspired lookbooks to inspiring ladies, kickass girls the world over can discover, covet, and acquire unique fashion and culture on this fresh platform.
# # #