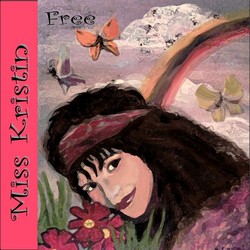 Sometimes You Win
Campbell, CA (PRWEB) January 12, 2010
These days Miss Kristin is counting her blessings and thankfully crafting genuine uniqueness, as she creatively shines on her new music release for Big Fuss Records titled, "FREE" due in stores February 9, 2010.
With "Free" being her eleventh collection over the course of the last decade, Kristin has launched as a genre crossing, multi-talented, writer-composer, who truly enjoys what she is doing.
Better known as a Soft Rock /Triple AAA/ New Age Independent Artist, Kristin Pedderson (aka Miss Kristin) seems determined to demonstrate herself through perseverance in the music industry claiming, "Sometimes You Win".
"FREE" is composed entirely by Kristin, and produced, with the help of the gifted Tom Landry as guitarist/bassist extraordinaire. Opening with the title track "Free"; Kristin asks her audience, "Who holds the chains, where does it bind you?" With powerful musicianship, "Free" is a continuation in theme collections where the title track suggests an idea that is carried throughout the entire musical journey setting the mood for a grand adventure.
Miss Kristin continues her poetic crossing without reserve following the title track "Free" with a jazzy single, "The Best Of Intentions", in a sexy liberated devil may care moment. Kristin having survived her own level of oppression has the panache to reach her listeners as one who enjoys complete personal liberty. Kristin breaks her own rules with realism to love and appreciate.
A most interesting inclusion is the emotional Sentimental Journey where Kristin performs her own instruments in an epic passage through thought and emotion, reconciling past and present. Kristin's entrancing empathetic stance confidently seems to seek those bound, calling them to her bold freedom.
Kristin spent her early years working as a hair stylist, while honing her true heart's desire as a composer, producer, and performer. Kristin is no stranger to pretense and has had plenty of opportunity to consider people firsthand. She regularly assists with music for a local street ministry in San Jose, (her home town) and her real life experience, has given her compositions a compassionate edge.
Clear of obstructions, the first single to be released, "Sometimes You Win" sings, the second time around is the doosey, third time is the charm. Perhaps engaged in her gift, Kristin has stopped counting and is saying what really matters, is she keeps doing what she loves; making great original music.
Music Directors download broadcast quality tracks via Airplay Direct.
# # #