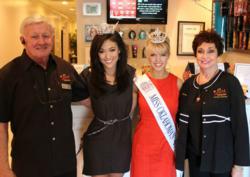 From her recent visit at our Grand Opening to our phone call this week - Sunsations Tulsa is proud to support Miss Oklahoma, Alicia Clifton, in her platform of 'Volunteerism' and her year-long tour.
Tulsa, OK (PRWEB) January 11, 2013
Will Oklahoma Win 'Quadruple Crown' at Miss America in Las Vegas Saturday? Off to a good start:
Shawtel Smith Wuerch Miss Oklahoma - Miss America 1996
Jennifer Berry Gooden Miss Oklahoma - Miss America 2006
Lauren Nelson Miss Oklahoma - Miss America 2007
Miss Oklahoma Alicia Clifton wins talent competition Wednesday according to NewsOK.com "Money Can't Buy Me Love" earned her top honors Tuesday night at the Planet Hollywood Resort & Casino.
Miss Oklahoma Alicia Clifton on her recent visit to Sunsations Tanning Tulsa Tune in to Miss America LIVE from Las Vegas Saturday January 13, 2013
Miss Clifton's platform as she points out so well in this YouTube video at Sunsations Tanning Tulsa is TAP "Tap into Life-Long Volunterism" http://youtu.be/DsVLNhBfQhk
TAP into Life-Long Volunteerism. TAP stands for "Time Action and Passion"
"T is for Time because you have to know how much time you have available. A is for action to do it not procrastinate and 'P' is for your passion. What are you passionate about? I encourage people to find their own organizations even things within their own communities that they can do even without an organization that they can do to make a difference in other people's lives," says Clifton.
"We are proud to support our local ladies and this is why the crown holder tans free and active participants get discounted at all levels of tanning at Sunsations. Her platform of 'Volunteerism resonates with many of our customers and vendors and our staff, 'giving back' is something we encourage daily and we're proud to tan so many future 'Pageant Winners" here, says McCarthy.
Voted BEST OF THE BEST by Oklahoma Magazine and called Tulsa's cleanest and friendliest tanning facility by many are just two of the many reasons clients keep coming back again and again. In fact, many tanners love Sunsations so much they take advantage of the annual tanning packages that saves them 37% off the regular tan as you go pricing. Annual tanners tan for as low as $25/month.
Sunsations offers UV free Airbrush tanning and 3 levels of Tansas tanning beds, including wide-body bronzing beds and standup beds! All their beds are very effective and comfortably placed in beautifully decorated large private rooms.These are the hottest lamps and luxury at discounted prices!
They offer professional Airbrush tanning by appointment; amazing "tan" UV free.
Sunsations requires no contracts and offers UV tanning and UV free Airbrush tanning by single session, multi-session, monthly unlimited, and multi-month pricing."I.D." discounts include students, teacher and military (ID required)
Sunsations is located at 6532 E 71st St, Suite 103, Tulsa, Oklahoma 74133 on the SE corner of 71st and Sheridan. And open daily except Sunday.
Dr. Harvey Jenkins Medical Director at BodyTrends, The Electrospa of Oklahoma City says, "Alicia has been a Favorite BodyTrends Client for three years, long before she became Miss Oklahoma. We are so proud to have been able to watch her mature into a phenomenally beautiful, sophisticated and talented young woman. She will make a great Miss America, and we won't be surprised if she is the last person standing on stage on Saturday night."
Dr. Jenkins traveled to Las Vegas to be a part of the event and is providing live social media tweets that @SunsationsTulsa will be re-tweeting throughtout the weekend.