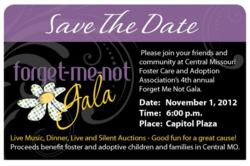 Columbia, MO (PRWEB) October 19, 2012
An evening of dining, entertainment and fund-raising auctions will highlight the annual Forget Me Not Gala, Thursday, Nov. 1, to benefit the Central Missouri Foster Care and Adoption Association.
The evening's activities at the Capital Plaza Hotel will start at 6 p.m. with live entertainment, a silent auction and social hour, followed by dinner, a live auction and awards program. Nearly 100 unique and creative items will be offered in the two auctions, with proceeds going to support programs for the non-profit Foster Care and Adoption Association.
This is the fourth year the Central Missouri Foster Care and Adoption Association has sponsored such a fund-raising event. Since 2009 CMFCAA has served more than 65 families and 200 children throughout central Missouri. Agency programs include "Begin-Again Backpacks" for children entering foster care, "Transitions" for high school seniors, the "Boys and Girls Clothing Closets" for foster and adoptive youth, and the "Hope Chest Food Distribution" program for foster and adoptive families. CMFCAA also provides parent training services, sponsors respite events for member families, and offers a variety of assistance services through the volunteer-staffed Resource Center on Jefferson Street.
The Gala is scheduled for 6-8:30 p.m. Tickets are $35 per person or $60 per couple. This year's Gala co-chairs are Heidi Lucas and Stacia Carr. Event tickets can be purchased online at http://www.ccfosteradopt.com or by calling 573-298-0258. Businesses wanting to provide extra support are encouraged to consider a corporate sponsorship, available from $100 to $1,000.