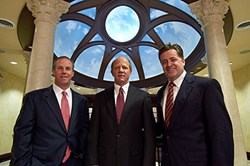 St. Louis, MO (PRWEB) April 25, 2013
The personal injury lawyers at the law firm of Onder, Shelton, O'Leary & Peterson, LLC handling St. Louis car accident claims have announced an offer to provide a free consultation with an experienced local attorney to those who have been injured in an auto accident in Missouri or Illinois. The firm has handled numerous cases involving severe injuries, including amputation, brain and spinal cord injuries, as well as those that resulted in death. The firm's St. Louis personal injury lawyers have handled car accident cases where the injury was caused by the negligence of another driver as well as those where a component on the vehicle, such as the passenger restraint system, seat, tires or a commercial truck's safety feature, failed to perform as intended and either caused an accident or resulted in an accident that was much more serious than it should have been.
Although there are numerous car accident lawyers in St. Louis, the resources and strategies employed vary greatly from law firm to law firm. At Onder, Shelton, O'Leary & Peterson, the mission is to produce the very best result for the each of its clients. In order to accomplish that goal, a team of sophisticated consultants, including engineers, automotive, highway and safety experts, to understand the exact cause and events leading up to the accident and then will often use extensive computer 3D modeling to recreate a visual representation of the accident, something the firm's car accident attorneys know to be extremely persuasive in jury trials, often to the extent where an insurance company will choose to settle a car accident claim rather than continuing to resist reaching a fair settlement.
The Onder Law Firm welcome inquiries from other lawyers in regards to handling St. Louis car accident lawsuits, either as co-counsel or on a referral basis.
About The Onder Law Firm
Onder, Shelton, O'Leary & Peterson, LLC is a St. Louis based personal injury law firm handling serious injury and death claims across the country. Its mission is the pursuit of justice, no matter how complex the case or strenuous the effort. Onder, Shelton, O'Leary & Peterson have represented clients throughout the United States, and other firms throughout the nation often seek its experience and expertise on complex litigation. It is a recognized leader in products liability cases such as window blind cord strangulation and pharmaceutical litigation. The Onder Law Firm offers information pertaining to St. Louis personal injury claims and a free attorney case review at http://www.onderlaw.com.