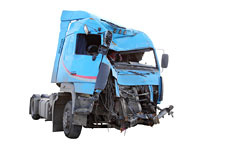 St. Louis, MO (PRWEB) August 31, 2012
The Onder Law Firm announces the launch of its new Missouri truck accident website, which offers information on Missouri truck accidents and legal rights for Missouri truck accident lawsuits. Despite ever-tightening state and federal safety regulations, the number of commercial truck accidents is on the rise in Missouri. The State of Missouri's 2010 Traffic Safety Compendium reports that commercial vehicles caused 4.3% more fatal accidents during 2010 than the previous year. In 2010, there were 5,400 Missouri accidents involving commercial drivers. Of these, nearly 2,500 resulted in injury and close to 100 caused fatality. The Onder Law Firm is nationally recognized for its work on cases of personal injury, wrongful death and family safety. The Onder Law Firm's Missouri truck accident lawyers welcome inquiries regarding truck accidents that occurred in Missouri. Free consultations are provided to persons or family members of persons who were injured or killed in Missouri truck accidents.
Whether clients choose The Onder Law Firm to represent them or not, James G. Onder urges Missouri truck accident victims or their families to pursue a Missouri truck accident lawsuit. Many people who have already consulted with The Onder Law Firm say that trucking companies is Missouri are not operating in accordance with federal and state trucking safety regulations, and are causing truck accidents as a result. Innocent motorists are being harmed and killed, they say, while trucking companies are pushing their drivers to work longer hours. Pursuing a Missouri truck accident lawsuit may help to enforce and strengthen safety regulations, and even prevent future accidents. In addition, superior safety equipment for trucks has been developed throughout the world, but the state needs extra pressure to enforce its use in order to prevent Missouri truck accidents.
The Onder Law Firm is open to discussion with other law firms handling Missouri truck accident lawsuits. Lawyers at The Onder Law Firm may be available to handle Missouri truck accident cases directly or to work as co-counsel.
About The Onder Law Firm
Onder, Shelton, O'Leary & Peterson, LLC is a St. Louis based personal injury law firm handling serious injury and death claims across the country. Its mission is the pursuit of justice, no matter how complex the case or strenuous the effort. Onder, Shelton, O'Leary & Peterson has represented clients throughout the United States, and other firms throughout the nation often seek its experience and expertise on complex litigation. It is a recognized leader in products liability cases such as window blind cord strangulation and pharmaceutical litigation. The Onder Law Firm offers information pertaining to Missouri truck accident lawsuits at http://www.truckaccidentlawyersmissouri.com/