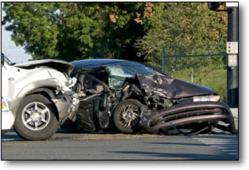 St. Louis, MO (PRWEB) October 16, 2012
The Onder Law Firm announces the launch of its new website which offers Missouri truck accident information and free consultations with the firm's Missouri truck accident lawyers. The rate of truck accidents in Missouri is only rising, despite the development of state-of-the-art safety equipment that could prevent or mitigate damage from Missouri truck accidents if it were in wide use. Severe injury, lifelong disability and fatality result each year from truck accidents in Missouri. In 2010, there were over 4% more fatal truck accidents in Missouri than during the previous year, recorded the state's Traffic Compendium.
Due to the size differential, Missouri truck accidents that involve smaller passenger vehicles such as sedans, pickup trucks and even SUVs are likely to result in serious injury or death for passengers in smaller vehicles. Meanwhile, operators of commercial vehicles are likely to escape the accident unharmed. Innocent motorists are killed and seriously injured each year in Missouri truck accidents.
Trucking companies have recorded growing profits in recent years, garnering roughly $650 billion a year despite the downturn of the American economy. Many towns in Missouri depend solely on goods delivered by trucks. Yet trucking accidents in Missouri and throughout the nation should not be accepted as a necessary evil. Many truck accidents in Missouri are considered preventable. Missouri truck accident lawsuits hold trucking companies accountable for safety on the roads, and can help to bring about stricter safety regulations. Missouri truck accident lawyers are reviewing claims of persons or families of persons who were harmed or killed in a Missouri truck accident.
The Missouri truck accident lawyers at The Onder Law Firm welcome inquiries from other law firms in regards to handling or working as co-counsel on Missouri truck accident lawsuits.
About The Onder Law Firm
Onder, Shelton, O'Leary & Peterson, LLC is a St. Louis based personal injury law firm handling serious injury and death claims across the country. Its mission is the pursuit of justice, no matter how complex the case or strenuous the effort. Onder, Shelton, O'Leary & Peterson have represented clients throughout the United States, and other firms throughout the nation often seek its experience and expertise on complex litigation. It is a recognized leader in products liability cases such as window blind cord strangulation and pharmaceutical litigation. The Onder Law Firm offers information pertaining to the Missouri truck accident lawyer services at http://www.truckaccidentlawyersmissouri.com/.