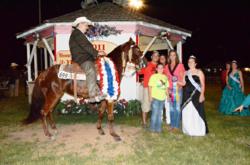 A special feature of the MFTHBA Spring Show is a youth seminar beginning at 9 a.m. on Tuesday that promotes horsemanship excellence and gaited horse skills in kids ages 6 to 17.
Ava, Missouri (PRWEB) May 22, 2012
The Missouri Fox Trotting Horse Breed Association (MFTHBA) will hold its 33rd Annual Three Year Old Futurity and Spring Show June 5-9, at the MFTHBA show grounds, located one mile north of Ava, Missouri, on Hwy 5. More than 300 horses will participate in 77 classes including model, performance, and versatility competitions. In addition, the MFTHBA hosts daily trail rides Tuesday through Friday during the event. This year's Spring Show will also include the first Missouri Fox Trotting Pony Triathlon which will feature ponies competing in performance, trail and model classes. A complete schedule of events is available at http://www.mfthba.com.
"We are excited to include the Pony Triathlon to highlight the excellence of the Missouri Fox Trotting Pony. This competition will showcase the smooth gait, versatility and beauty of the breed," said Joyce Graening, MFTHBA President.
Fox Trotter owners from throughout the United States and Europe will compete in the Three Year Old Futurity classes. "These young horses will be experiencing their first show when they enter the ring on Thursday night. It is a testament to the willing disposition of the breed that they respond so well. Our members put a great deal of work into preparing their horses for this event," said Graening.
The show begins at 10:00 a.m. on Wednesday with versatility classes and will end on Saturday with the crowning of the 2012 Three Year Old Futurity Champions. Over $25,000 will be awarded in the Futurity classes.
A special feature of the MFTHBA Spring Show is a youth seminar beginning at 9 a.m. on Tuesday that promotes horsemanship excellence and gaited horse skills in kids ages 6 to 17. Topics will include the gaits of the Missouri Fox Trotter, colt starting and equitation.
This year's youth seminar will also feature an Equine Agility seminar and demonstration. Equine Agility, a non-mounted sport in which horse and human work through a course for a score based on time and proper completion, is one of the fastest growing equine sports in the world. After completing the seminar, youth will compete in an Equine Agility Fun Show where $1000 in cash prizes will be awarded. Wayne Williams, long time host of "Speaking of Horses" (http://www.SpeakingofHorses.com), will be attending the Youth Seminar to film for an upcoming multi-segment program on Equine Agility.
"The Missouri Fox Trotter has excelled in ranch horse, competitive trail and endurance competitions. Equine Agility is another event that will highlight the athletic ability of the breed," said Graening. "We are excited to be able to share this new sport with our youth membership."
All youth are welcome to participate in the seminar, and horse ownership is not a requirement. The seminar is free for MFTHBA member youth and only $15 for non-MFTHBA members.
Gate admission is $5 on Wednesday and Thursday and $6 on Friday and Saturday. For accommodation or show information, please email donnawatson (at) mfthba (dot) com.
Coming up on September 2-8, the MFTHBA will host the Fall Show and Celebration, where the breed's finest compete for the World Grand Champion title.
Fox Trotters have been gaining popularity as competitive trail mounts, ranch horses, and pleasure horses. Most notably, Mitt Romney, contender for the U.S. Presidency, recently praised his Fox Trotter in comments to Sean Hannity. In 2011, Three Fox Trotters made the finals in ACTHA's America's Favorite Trail Horse Competition. A Fox Trotter has been named Horse of the Year by Friends of Sound Horses for three consecutive years.
Horse lovers wanting to learn more about the Missouri Fox Trotting Horse can subscribe to email publications from the MFTHBA. Visit http://www.mfthba.com or the MFTHBA Facebook page to sign up.
About the Missouri Fox Trotting Horse Breed Association (MFTHBA)
Fox Trotters originated in Missouri as ranch horses bred for smooth riding gaits as well as stamina for mountain riding and heavy ranch and farm work. They are known for versatile athleticism, the naturally smooth flat walk and fox trot gaits, and an endearing, trainable personality. Since 1948, the MFTHBA has worked to promote the Fox Trotter gaited horse and support a registry for horses that meet the breed standards of gait and conformation. Today there are more than 97,000 registered Fox Trotters worldwide. Visit http://www.mfthba.com .
Media Contacts:
Donna Watson, MFTHBA
417-683-2468
donnawatson (at) mfthba (dot) com