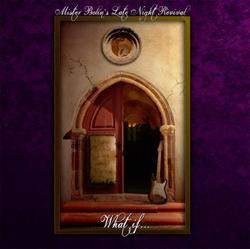 "These songs are 35 years old and had never been completed, and yet they sound as relevant as if they were written yesterday."
Chicago, IL (PRWEB) November 12, 2010
Between his time with Zephyr, the James Gang, Moxy and Deep Purple (to name but a few bands), alongside a series of lauded solo recordings, Tommy Bolin is one of the world's most recognizable guitarists who's had an indelible impact on the generations that followed. The six-string slinger from Sioux City, Iowa literally set the world on fire with his unmistakable riffs, technical precision, attention to detail and larger than life personality, which continues to be chronicled throughout a series of compilations and live recordings from the archives.
But what sets Mister Bolin's Late Night Revival apart is its ability to cull together some of the guitar god's unfinished works, which earn the royal treatment thanks to a series of friends, professional colleagues and proverbial protégés. All the while, the tunes are interpreted through classic, modern, alternative and blues rock lenses under the initial vision and ongoing direction of executive producer Bill Schenk and creative consultant John Schenk (co-founder of the rock n' roll Rainbow Foundation charity).
"I've always been a Bolin fan and the thought of doing a track was very appealing," muses musical contributor Randy Jackson (of Zebra fame). "I love anything melodic and "Celebration" was a really melodic track with some cool space in it. It was an honor to participate and I'm glad it turned out so well."
Along with an all-star cast that also includes Jeff Pilson from Foreigner, Dokken and Dio, Derek St. Holmes from Ted Nugent Band, Eric Martin from Mr. Big, Kimberley Dahme from Boston, Doogie White from Rainbow, Troy Luccketta from Tesla, Rex Carroll from WhiteCross, and Tommy's own brother Johnnie Bolin (to name a few), it's a one of a kind treasure trove that continues to extend Bolin's lauded legacy, while simultaneously introducing his music to legions of younger fans. "We felt a responsibility, first and foremost, to make sure that the listener realizes what a great songwriter Tommy Bolin was," assures co-producer/musician Chuck Giacinto. "These songs are 35 years old and had never been completed and yet they sound as relevant as if they were written yesterday."
Adds fellow co-producer/musician Christopher Peterson, "To see this go from a small handful of demos to where it is now is nothing short of amazing. Bolin's depth of creativity was endless. Everyone has been incredible to work with. Getting to work with people I've respected for years as peers and fellow musicians made this project both insightful and incredibly special." In addition to the wealth of musical ingenuity contained within this space, a percentage of the proceeds from this very project will benefit the Jackson Recovery Center, a drug and alcohol rehab facility in the artist's hometown, bringing Bolin's legacy full circle.
So sit back, relax and crank up the amplifiers to eleven for the full-throttled sonic affair, sure to showcase Bolin's enduring songwriting genius and bring his seminal career full circle.
"The fact that the project will benefit a great organization like the Jackson Recovery Centers makes it all the more a worthy venture," adds Giacinto. "Everyone brought their best to the table. You got the sense early on that each person that came on board realized that this was something special and wanted to put their best work forward. And in the end, when you listen to the project as a whole, it doesn't really seem to be about the artists in any competitive way. It's about the songs. And in that sense, I think we've succeeded."
# # #