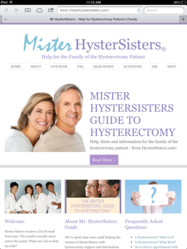 "... we want to help a caregiver feel more connected to a partner as she goes through the hysterectomy experience."
Dallas, Texas (PRWEB) January 30, 2013
When Kathy Kelley, founder of HysterSisters.com, started receiving emails from men about hysterectomy, she knew that she had to respond.
As "keeper of the keys" at HysterSisters.com, Kelley received heartfelt and anxious messages from spouses and partners with dozens of questions: "Do I go to the doctor with her?" "Why is my wife not feeling better?" "When will our relationship be back to 'normal'?" and "What is 'light housework' anyway?"
To help men understand how hysterectomy may affect their partners and loved ones, HysterSisters.com has launched a companion site especially for the misters, partners and caregivers in their lives. The new site, MisterHysterSisters.com, provides online support for men and caregivers who know a woman who having a hysterectomy, the second most common surgery for women after caesarean delivery.
HysterSisters founder Kathy Kelley created MisterHysterSisters.com to provide answers to men's frequently asked questions about this common surgery. "Our HysterSisters members have each other for support, and we want to help a caregiver feel more connected to a partner as she goes through the hysterectomy experience. They want to know about everything—what are the surgery options, how long is her recovery and when will she be back to 'normal'?"
Adrienne Stephens used the HysterSisters app on her iPad to show her husband videos and make lists to prepare them for her surgery. "I made a to-do list for him -- change sheets, buy pillows, get fluffy slippers, it seems he's really getting involved in it. He knows that it's going to take awhile for me to be healed, and he's going to have to be involved and be patient. Mister HysterSisters is going to guide him through that."
Mister HysterSisters.com provides compassionate answers to questions like this: "It's been a month since her hysterectomy and my wife seems so sad all the time. I thought the surgery was supposed to make her life better. What's wrong?" Mister HysterSisters Guide to Hysterectomy is also available as an 80-page eBook on Kindle, iBooks and PDF.
HysterSisters.com is the Internet's number one destination for woman-to-woman support for hysterectomy and its related gynecological conditions such as endometriosis, fibroids and uterine/ovarian cancers and creator of the Hysterectomy Support App for iTunes and Google Play. HysterSisters and its mobile apps helps thousands of women every day get answers to questions about how to prepare for and recover from hysterectomy. Its apps are the only free GYN health apps in iTunes and Google Play that allow women to personalize the information they need according to their hysterectomy surgery date. A woman can enter her surgery date, customize a list of questions for her doctor, make to-do's for herself, assign tasks to family and friends, watch videos, and get information and support from the HysterSisters online community. The app also provides weekly reminders and suggestions for preparing and recovering from hysterectomy surgery.
About HysterSisters.com
From its early days as an AOL message board in 1999, HysterSisters.com has grown to over 290,000 registered members in 2013. Over 20,000 women visit HysterSisters daily to find information about surgical choices, hysterectomy alternatives, post-surgical recovery, cancer treatments, hormone replacement therapy, menopause, and other gynecological health concerns. Virtual hostesses monitor more than 35 interactive forums on those topics and more. HysterSisters.com is an independent source of hysterectomy information and experiences; it is not pro- or anti-hysterectomy.