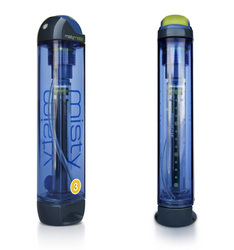 We're not just another company that is jumping on this
Chandler, AZ (PRWEB) July 28, 2009
Misty Mate unveils the Misty 3, the world's smallest personal mister. With a water reservoir that contains up to three ounces of water, this revolutionary product keeps users comfortable in even the most extreme climates by cooling surrounding air by up to 30 degrees. Ultra-slim, lightweight and highly versatile, the Misty 3's innovative design delivers maximum cooling power while occupying minimal space.
Designed by Astro Studios and engineered by Alignment's principal, Chris Fruhauf, the Misty 3 uses state-of-the-art design qualities while meeting the needs of value-conscious consumers. With high-quality polycarbonate plastic and a lock-in place cap, the Misty 3 is designed for durability. Advanced pressure containment capabilities give users a stronger mist flow, ensuring that each pump delivers a refreshing spray to the skin. At a budget-friendly price of less than $25, the Misty 3 satisfies customers without sacrificing the superior quality standards that all of Misty Mate's products meet.
Using no motorized parts and no batteries, the Misty 3 meets the company's primary aim: to offer eco-friendly cooling solutions that outperform battery operated alternatives. Like all of Misty Mate's personal misting systems, the Misty 3 operates via hand pressurization which produces water droplets that deliver a continuous mist for maximum cooling power.
"We're not just another company that is jumping on this "green" bandwagon because it's become meaningful to the public," David Bandawat, Misty Mate President, says. "Ever since 1989 we've been green." That's one of the core ideas that even our newest products always incorporate from the older generations. It's one of the solid foundations on which we've built our company and, as time goes on, the world seems to get what we do more and more. We've never changed."
With the latest addition to the Misty Mate product line, Bandawat and Misty Mate continue to provide customers with answers to all of their cooling needs. From long evenings at the gym to strenuous afternoons under the desert sun, the Misty 3 is the quickest way to keep cool.
About Misty Mate
Misty Mate has provided customers with personal misting systems since 1989. With a collection of portable personal misting systems, at-home patio systems and other accessories, Misty Mate offers a variety of products that ensure cooling and comfort in hot environments. For a view of the complete product line, please visit http://www.mistymate.com.
###