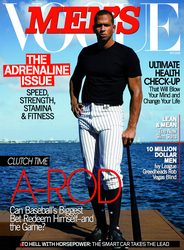 Cross-dressing worked in the Bahamas and in Illinois
(PRWEB) March 25, 2008
In the April issue of Men's Vogue , Michael Kaplan visits the 12th annual Blackjack Ball in Las Vegas, where the world's most skilled blackjack players very discreetly convene to imbibe and talk shop, leaving Las Vegas's gaming tables unmolested for an evening. All told, they have taken north of $100 million out of the casinos across town by implementing techniques like card counting, hole carding, and shuffle tracking. Kaplan spends some time with John Chang and Mike Aponte, two major players from the MIT blackjack team made famous by the book Bringing Down the House, now adapted into the film 21 (with Kevin Spacey, Laurence Fishburne and Kate Bosworth) in theaters March 28.
Chang's wife, Laurie, on his careless record-keeping:
Some years ago when she was helping John pack for a move, she found more than $100,000 in random chips scattered around his house inside glass jars and old storage boxes. When she voiced incredulity at the high-stakes loose change, John simply told her, with a shrug, "I thought I was a little short."
Chang has taken so much money from casinos that he's occasionally resorted to dressing up as a woman to hide his identity:
"Cross-dressing worked in the Bahamas and in Illinois," says Chang, who has a wrinkle-free baby face..."But at Taj Mahal, in Atlantic City, they were looking at my hands. An Asian host came over and whispered in my ear, 'We know who you are'....I had to run around the casino in high heels and make sure they weren't following me."
Chang, on why he doesn't simply abandon gambling for a straight career:
"In MIT and in the corporate world, being Asian is viewed as a slight negative," he says. "You're viewed as a nerd. There's a social stigma. You're not likely to be the CEO of a company. In blackjack, it's the opposite." Because casinos stereotype Asians as compulsive gamblers and because the mostly Caucasian surveillance personnel have a hard time distinguishing one Asian from another—Chang's nationality has brought him longevity. It's given him what those in the game call "positive EV" (expected value) and turned the art of beating casinos into his life's work. "My teammates used to tell me that I was so lucky, that I could get away with so much more than they could. My act is not particularly good, but this past weekend I watched some Asian players who weren't counting or anything—and they looked more suspicious than I did."
Aponte would love to sit back down at the tables again but he's just too well-known:
Aponte was recently counting cards in a St. Maarten casino. He was a few hands in before he spotted a familiar face in the pit. "This guy made eye contact and I immediately recognized him as one of the floor people from the $250,000 trip to Puerto Rico. Following a quick run up to surveillance, he came back down and told me that I wouldn't be able to play blackjack there. Then he took me to lunch and asked me to sign Bringing Down the House for him."
The April issue of Men's Vogue is available on newsstands now. For more from this article go to http://www.mensvogue.com.
# # #