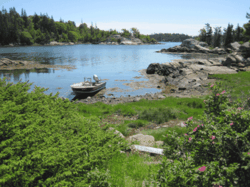 Everyone wins: the island owners, the volunteers, and the islands.
Portland, ME (PRWEB) February 26, 2013
In celebration of 25 years of sustainable recreation on the coast of Maine, the Maine Island Trail Association (MITA) plans a rich series of events from mid-March through Labor Day. The purpose of these events is to raise awareness of coastal environmental issues and outdoor adventure opportunities along America's first recreational water trail. Activities will include a film festival, paddle race, island cleanups, a "Rock Hop Photo Op" photo contest, and a Labor Day boaters' conference.
In 1988, a group of Maine small boaters announced the creation of the Maine Island Trail, a coastal waterway that links uninhabited islands and mainland sites from Kittery to the Canadian border. Boaters of all types enjoy the Trail, which has grown steadily from its original 30 state-owned islands to now include over 200 sites. The majority are privately-owned islands, including many land trust properties.
"Reaching our 25th year is a powerful indication of the wisdom of our founders, the effectiveness of our volunteers, and the continued generosity of our coastal property owners," reports Executive Director Doug Welch. "It's a great testament to the power of a group of individuals who have had a huge positive impact on the islands themselves. In our early days, there was considerable uncertainty whether this model of allowing the islands' visitors to also be their stewards would work. With twenty-five years of steady growth and positive economic impact, we can safely say that it does work."
The Maine Island Trail links island properties together, but it also links island visitors to the care of these special places. In exchange for island access, MITA offers a variety of volunteer-driven stewardship activities including trash cleanups, use monitoring, and trail crew work. In this way, island owners benefit from being part of the Trail. "We promise island owners that their fragile properties will be in better shape if they are part of the Maine Island Trail than they would be otherwise," says Welch. "Happily, this has proven to be true for twenty-five years now."
"It is a model of sustainable recreation−of engaging the community with a fragile natural resource unique to Maine," says MITA Program Director Brian Marcaurelle. "Everyone wins: the island owners, the volunteers, and the islands themselves."
Special Events:
25th Anniversary Kickoff at Maine Boatbuilders' Show
Saturday March 16, 6:00 PM – 8:30 PM
Portland Yacht Services, 58 Fore Street, Portland, ME
Attended by thousands each year, the Maine Boatbuilders' Show has long been seen by locals as the start of the boating season in Maine.
Film Festival and Silent Auction
Friday March 29, 6:00 PM –10:30 PM
USM Abromson Center, 34 Bedford Street, Portland, ME
This family-friendly event boasts a selection of paddling films and salty short films, plus a silent auction during intermission.
Community Trail Trip and Photo Contest / Island Cleanups
Saturday June 1 (National Trails Day) - through Labor Day
MITA will collect visitors' photo images from along the Trail in order to post them in real-time on a geo-coded satellite view of the coast.
MITA also launches its semi-annual Island Cleanups on National Trails Day in Casco Bay and moves up the coast region by region to Machias each Saturday in June. The cleanups, which are often over-subscribed, take small boatloads of people to Maine's uninhabited islands where they spend the day cleaning the shores of trash and readying the islands for summer visitors.
Paddle Race
Saturday July 20, Yarmouth Clam Festival
Yarmouth, Maine
Boaters Conference
Saturday August 31, Portland, Maine
A day of family-friendly off- and on-water events in Portland. Geared toward small boaters of all kinds.
About the Maine Island Trail Association
The Maine Island Trail Association is a membership organization dedicated to the protection and enjoyment of the wild islands of coastal Maine. Through 25 years of
community-building, stewardship and education, the organization created the Maine Island Trail - America's first recreational water trail. The waterway extends some 375 miles from the New Hampshire border to Cobscook Bay and the Canadian Border. The Maine Island Trail was recognized in 2011 by Outside magazine as America's Best Sea Kayaking Trail and in 2010 by Downeast as the best trail of any kind in Maine.
Current members enjoy access to Trail properties for day use or overnight visits in return for observing low-impact recreation techniques and guidelines outlined in MITA's
annual Trail Guide. Members are invited to participate in a wide variety of volunteer stewardship projects to keep the islands pristine, accessible, and welcoming. Annual memberships normally start at $45, but as a 25th Anniversary special, funded by a generous MITA member, new members can sign up at all live events for $25. For more information contact MITA at 207-761-8225, info(at)mita(dot)org or visit http://www.mita.org.
####