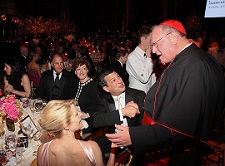 Mitchell Vazquez has attained great amount of success with his GCI Forex trading firm, and he is considered to be one of the pioneers in the online currency trading industry
New York (PRWEB) October 30, 2012
Mitchell Vazquez is a well-known humanitarian and owner of GCI Financial, a currency trading firm in NYC. He recently aided the cause of specialized medical care to underdeveloped countries that provides help to every child born with cleft and gives them the opportunity to live a better life.
A family earning less than $2 a day in the underdeveloped states cannot think of affording a surgery for their child. Mr. Vazquez as an ardent donator helped the Smile Train Foundation that came up with this cause in providing free cleft surgery to hundreds of thousands of poor children in developing countries. The foundation provides local partner hospitals and doctors with the resources, knowledge and skills to conduct a proper cleft surgery.
Mitch Vazquez has attained great amount of success with his GCI Forex trading firm, and he is considered to be one of the pioneers in the online currency trading industry. In 1996, he started Global Capital Investment, a New York based currency trading firm serving both US and international clients.
Mitchell Anthony Vazquez was born in 1968 in a middle class family. His family did not have the means to fund his education, so he financed it himself through a scholarship, student loans, and part time work. He realizes the fact that there are thousands of people who are in need of help even if it is in the smallest fraction.
To know more about the other causes he supports log on to http://www.mitchellvazquez.com