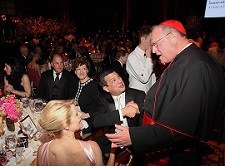 The Multiple Myeloma Research Foundation came up with this cause to accelerate cure for the people suffering from Myeloma
New York, NYC (PRWEB) November 14, 2012
Mitchell Vazquez, a committed believer in humanity, publicly announced his support to the Advance Cancer Research philanthropy that strives to cure and treat certain types of cancer. He is an ardent philanthropic donor to a wide range of regional causes and has undertaken a number of projects with the aim to encourage human welfare.
The Multiple Myeloma Research Foundation came up with this cause to accelerate cure for the people suffering from Myeloma. The foundation was founded by identical twin sisters Kathy Giusti and Karen Andrews after Kathy was diagnosed with multiple myeloma. Innovative means have to be pursued in order to develop treatments for the cancer and extend life of patients and lead to a cure.
Mitchell Vazquez is also considered as one of the pioneers in the online currency trading industry. He owns GCI trading firm that was awarded the Best European Broker 2012 award because of its contribution within the financial sector. Mr. Vazquez helped pioneer this industry when he established GCI over ten years ago as one of the first retail Forex brokers.
This success in financial industry along with philanthropic activities has won Mitchell Vazquez praises. He believes in charity and realizes the fact that there are many who are in need of it. To know more about his life and his philanthropies log on http://www.mitchellvazquez.com