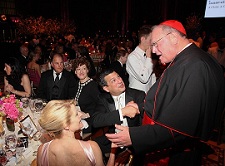 Mitch Vazquez also supported the AmeriCares fundraiser 'Global Disaster Relief and Humanitarian Aid'
New York (PRWEB) August 10, 2012
Mitch Vazquez recently gave his support to two charities that are the Advance Cancer Research and Global Relief and Humanitarian Aid. He is a spirited philanthropist and has supported a wide range of causes.
The Advance Cancer Research cause was the idea of the Multiple Myeloma Research Foundation that relentlessly pursues innovative means to accelerate the development of next-generation multiple myeloma treatments to extend the lives of patients and lead to a cure. The Multiple Myeloma Research Foundation (MMRF) was spearheaded by Kathy Giusti and her identical twin sister Karen Andrews. In 1998, Kathy, a graduate of Harvard Business School and a pharmaceutical executive, teamed up with Karen, a corporate attorney, to found the MMRF.
Mitch Vazquez also supported the AmeriCares fundraiser "Global Disaster Relief and Humanitarian Aid." AmeriCares is a non-profit disaster relief and humanitarian aid organization that provides immediate response to emergency medical needs and supports long-term humanitarian assistance programs for all people around the world, irrespective of race, creed or political persuasion. They restore health and save lives by delivering donated medicines, medical supplies and humanitarian aid to people in need around the world and here at home.
Mr. Vazquez donated substantial gifts to the Multiple Myloma Research Foundation and to AmeriCares. He is a proud supporter of these and many other philanthropic causes. For a full list, visit http://www.mitchellvazquez.com.