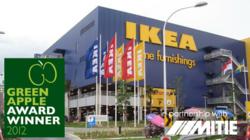 Is food waste the final frontier in the world of recycling?
(PRWEB UK) 21 December 2012
MITIE has pushed the boundaries in the last ten years, from taking over the management of waste contractors for its FM clients to becoming the sustainable partner of choice for resource management and material recovery. 
"In the last five years alone, we moved our UK clients up the waste hierarchy and our clients' overall recycling rate jumped from 33% to 59%*.
"The main hurdle to increasing recycling rates further is food waste contamination. So in November 2011, MITIE acquired CORE, a food waste recycling business. 
"In principle, most materials can become a new resource but food contamination can stop the recycling process. By training people and diners to dispose of their food waste in separate bins, then most materials collected in the recycling bins (and strangely enough in the General Waste bins too) can be recycled. As a result, organisations can achieve recycling rates above 80% or 90%. 
"But our clients' benefits don't stop there. The food waste is itself a wonderful resource when recycled, generating electricity and turning into compost and fertiliser, hence creating a virtuous closed loop.  
"This is why recycling food waste is vital to unlocking the benefits of the circular economy. And this is why we'll see our clients achieving more and more impressive recycling rates in the coming years, as the role of food waste in the overall recycling process becomes better understood by the wider business community."
At the end of the day, it's a simple idea but the practical implementation can be trickier than thought. MITIE recently won a Green Apple award for environmental best practice for its partnership with IKEA in Edinburgh and the case study offers a good example of what good looks like when it comes to food waste.

2007 to 2011; doesn't include materials recycled in a Material Reprocessing Facilities ('MRF') or ash from Energy-from-Waste plants.
MITIE Waste & Environmental is the most innovative waste management company in the UK. No other waste management or recycling company can combine the financial strength of a FTSE 250 business with such an in-depth expert knowledge of the waste and recycling industry. We have a committed focus on our clients' needs, and can offer not just significant cost savings but a strong sustainability performance. MITIE can streamline your supply chain, and share our years of expertise of best practice in waste avoidance and recycling.