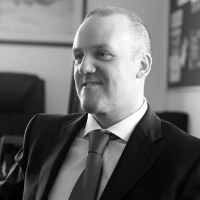 "We foresee a reduction in man-power and rise in the use of technology to address our client's security needs"
(PRWEB UK) 17 December 2012
For various reasons, 2012 has seen a huge increase in public interest of outsourced security solutions. However, Bob believes that the industry has come a long way to its present state and he's confident it will continue to evolve throughout 2013 and beyond.
"The economic pressures look set to stay and next year; my personal view is many small to medium sized companies will be looking to bolster their businesses through acquisition or merger. It's not surprising that they haven't been able to ride the wave of margin erosion through commoditisation - many will have continued trading this year hoping for some light at the end of the tunnel."
Bob doesn't foresee a margin bounce in commoditised areas. Much of the noise coming from The City and the chancellor's office supports his idea that trading will be tough for companies that cannot differentiate and offer significant innovation. There is a risk that in these times of austerity, firms are risk averse, prioritising the publication of strong cash flows and balance sheets over investment in future business strategies and technologies.
Bob also predicts a significant increase in integrated service offerings; "I think bundling will continue to be a feature in the facilities management market. Broader service scoping bundles such as including more back office related functional areas, with BPO merging with the traditional bundle of hard and soft services.
"This emerging and on-going trend of bundling will see FM providers looking to acquire specialist single service providers to strengthen their integrated offering. Rather than partnering with a specialist provider they will seek to bring this capability in house as the demand for integrated FM is here to stay."
With that in mind, MITIE firmly believes that integration will remain a key feature of how its security services will continue to be packaged and delivered in 2013. MITIE's 25 year story is one of the UK's finest examples of how to grow and expand by moving away from the silo, single service approach. It's mantra of "fresh thinking" is at the very heart of Bob's TSM team;
"We foresee a reduction in man-power and rise in the use of technology to address our client's security needs. Looking at the risk profile will be the starting point to define security needs, and the commoditised approach of comparing like for like on manning levels will be less relevant and hopefully talked about as the 'old' approach, before we really understood how to mitigate risk.
"As a fan of output specifications this is something that I will champion to be adopted as the norm in the industry so that security is considered at a strategic level in organisations and risk is really deliberated by the thinkers in the business."
Differentiation is pivotal in any industry. And in security the key buying drivers of value propositions will continue to play a supporting role. The desire for unique, customer tailored and differentiated integrated service solutions, with security part of the wider picture, will increasingly become important in the procurement decision making process.
Bob concludes; "Innovation in security will stem from improvements in training quality, and customer care will be more important than ever particularly for companies committed to retaining their client base as well as attracting new ones.
"Personally my New Year's resolution is to act on my ideas and be bold in my decision making and commitments to change. My vision has served MITIE and the TSM business well so far, my only regret is that I just wish I had taken some key decisions sooner. Let me know yours, your highlights of 2012 and your predictions for 2013 @BobTSM."