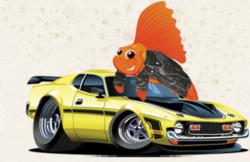 I would have paid to see the look on Romney's face when he saw that first headline online, saying that he had pulled out [of the campaign.]
New York, NY (PRWEB) April 02, 2012
RoadFish.com men's lifestyle and finance magazine applauded and chuckled at the multiple April Fools Day pranks played on Mitt Romney yesterday, both by Forbes.com and by Romney's own campaign staff. Romney, known among other things as having led the 2011 campaign year ahead of all of his Republican opponents with $56 million raised and not having spent his own money on his campaign, was doubly pranked yesterday in two completely different arenas.
According to an article in the Washington Post by Lauren Abdel-Razzaq, Forbes contributor Len Burman released a news blog yesterday on Forbes.com with the following headline: "Romney drops out of race, endorses Santorum." The article went live around 10:40am yesterday morning, and was pulled after about a half hour. However within the brief period of time that Forbes ran it, the headline spread to Twitter and made it to the top slot on Google News.
The Washington Post article states that Burman's "news" article included fake quotes from Romney, stating such things as he has "no chance" of winning the general election in December, and saying, "I don't want to wait until 2020 to get my party back. I'm all about efficiency. Let's get our butts kicked now and move on." Another faux quote that Burman fabricated said that Romeny stated that a "Santorum candidacy would be in the best interest of the party." In a phone interview with reporter and April Fooler Burman, he stated, "It's kind of baffling. It was April Fools' Day, and it was completely implausible. Nobody in the party would heave said those things."
RoadFish.com's Senior staff writer is quoted as saying, "I love a good April Fools' prank as much as the next guy. I thought this one was funny because it was almost like one prank on top of another—Google actually picked it up as news. I would have paid to see the look on Romney's face when he saw that first headline online, saying that he had pulled out. Such a gutsy but great April Fools."
Ehab Zahriyeh reported for the New York Daily News that another Romney prank was simultaneously being pulled by his own campaign staff. Romney was slated to speak on Sunday at a restaurant in Milwaukee when his staff informed him that he hadn't gotten "much of a turnout this morning." Wisconsin congressman Paul Ryan introduced Romney, who stepped out into an empty room and reportedly stated, "This is going to look really bad on the evening news." Little did he realize that all audience members were actually waiting in a different room. Said Romney afterwards, "This is a morning I'm not going to forget anytime soon. They turned me into the April fool this morning."
RoadFish.com says it loves a good April fools day prank, and it Senior staff writer claimed, "It's even better if the same person actually gets pranked multiple times by completely difference sources. My hope is that next year we'll see Romney, regardless of his position at that point, retaliating and come back with some April Fools of his own. He owes it to his prankers."
Romney was the 70th Governor of Massachusetts, from 2003 to 2007, and is currently a running candidate for the 2012 Republican Party presidential nomination. In the above-mentioned Washington Post article, Forbes-blogger Len Burman, who maintained that his blog post was solely a satirical piece in light of the prank-loving holiday, said that he has learned an important lesson today regarding the Web, stating, "It's the way Internet works. The headline gets transmitted and nothing else. I was hoping it would go viral, and I guess it has."
About RoadFish
RoadFish.com is an online men's lifestyle and finance magazine targeted toward men in their 30's and 40's that have already attained a moderate level of success in life, and are striving toward more. It goes over current events of interest to this group, such things as exciting adventures, making money, consumer interests, hot chicks, and internet marketing events, as well as ways to make more and save more money. It is a publication owned by Purpose Inc.