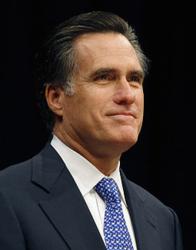 Mr. Romney may have violated IRA prohibited transaction rules when he used his retirement account in Bain's investments – even if he only owned a small percentage of the Bain investments made with his IRA
Miami, FL (PRWEB) November 06, 2012
Mitt Romney's use of Individual Retirement Account (IRA) funds in Bain Capital investments may fall under Internal Revenue Service (IRS) prohibited transactions – therefore potentially subjecting his IRA to taxes and IRS penalties, according to executives at IRA Financial Group. Worth between $21 million and $102 million, Romney's IRA comprises an enormous portion of his total personal wealth. If the IRS deems his IRA transactions as prohibited, he could be responsible for tens of millions in taxes and penalties.
Internal Revenue Code section 4975 prohibits the use of IRA funds in self-dealing or conflict of interest transactions. For example, an IRA investor cannot invest retirement funds in a business he or she controls (or owns more than 50 percent of). While it is common for employees to use their 401(k) funds to purchase employer company stock, IRAs are subject to different rules under the tax code. Even if Romney's IRA investments were not made during the time period when he owned 100 percent of Bain, executives at IRA Financial Group speculate whether or not Bain imposed a management fee on shares held in his IRA, personally benefiting Romney individually as a partner in Bain.
"This is an incredibly grey area of the tax code, but I believe there is a strong possibility Mr. Romney may have violated IRA prohibited transaction rules when he used his retirement account in Bain's investments – even if he only owned a small percentage of the Bain investments made with his IRA," said Adam Bergman, head of IRA Financial Group former Wall Street tax attorney. "At the very least, the IRS could construe this as a self-dealing transaction or a conflict of interest."
While Romney did not own more than 50 percent of Bain's investments – in fact, he often owned a much smaller percentage of those investments -- tax code sections 4975(c)(1) (D) and (E) prohibit the use of IRA funds for seal-dealing type investments or investments with a possible conflict of interest between the best interests of the investor and the best interests of the IRA.
"Because Romney both controlled Bain and also was an IRA investor in various Bain deals, it's very possible there was a conflict of interest that gave him an economic advantage at the expense of Bain," adds Bergman. "I always advise my clients against making these kinds of investments. Even if they can remove management fees from their IRA, what's best for their IRA may not be what's best for their business or investment. This creates a very sticky relationship between an investor and his or her investment; and it's a situation that the IRS generally doesn't want and doesn't allow."
IRA Financial Group is a self-directed retirement account provider based in New York and Miami. Self directed IRA retirement accounts allow investors to use retirement funds for alternative investments such as real estate, gold and start-up businesses. The company is not an investment firm and does not recommend investments for its clients.
For more information on IRA prohibited transactions or IRA Financial Group visit http://www.irafinancialgroup.com or call 1-800-472-0646.