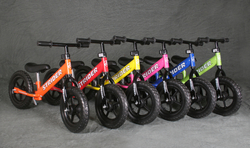 Denver, CO (Vocus) November 9, 2010
Just in time for Chanukah, a new program dubbed Mitzvah Riders™ is making fundraising on behalf of Jewish day schools and preschool programs so simple, even a toddler can do it.
Parents, grandparents, aunts, uncles and others who purchase a Strider PREbike™ as a Chanukah gift for a youngster this year will also be helping the Jewish educational institution of their choice. Synagogues, yeshivot, Jewish day schools, after-school programs and preschools across the country are all eligible to benefit.
PREbikes™ are the revolutionary pedal-free bicycles designed specifically for children 18-months to 5-years-old. These lightweight running bikes, featured recently in a prominent article in The Wall Street Journal, teach kids the necessary balance and coordination to ride two-wheelers without ever needing the crutch of training wheels or outmoded tricycles.
PREbikes™ have won the endorsement of numerous childhood development experts for their safety and the ease with which they help young children hone their lifelong motor skills. If a toddler can walk, he or she can master a Strider PREbike™.
For every Strider PREbike™ sold through the special Mitzvah Riders™ website (http://www.mitzvahriders.com) or phone number between now and the end of the year, 20% of the purchase price will be donated to the Jewish day school or Jewish educational program of your choice. Each bike is offered at the lowest advertised price available from any authorized PREbike™ dealer in the United States. (Shipping and taxes, where applicable, will be charged.)
PREbikes™ are available in six original colors: Red, Blue, Green, Orange, Yellow and Pink, as well as the recently released KTM Strider PREbike™, which features the color and styling of the popular KTM line of street and off road race cycles. Toddler safety helmets and other bike accessories are also available and eligible for the 20% donation program.
The Mitzvah Riders™ fundraising program is being rolled out nationally by Tike Bikers, Inc., an authorized Strider PREbikes™ dealership.
Those who order PREbikes™ online or by phone will be contacted by a Tike Bikers customer service agent to confirm which Jewish school or education program should receive the 20% donation. For more information or to place an order, phone 888-WIN-TIKE (946-8453). The Mitzvah Riders™ program is only available through http://www.mitzvahriders.com or by phone. It does not apply to PREbikes™ purchased elsewhere.
###