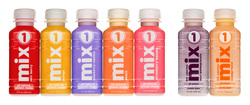 mix1 looks to the mix1 Performance Advisory Board as a source of expertise that provides our organization with cutting-edge sports nutrition knowledge
Boulder, CO (PRWEB) November 6, 2010
"mix1 looks to the Performance Advisory Board as a source of expertise that provides our organization with cutting-edge sports nutrition knowledge," states John Burns, mix1 CEO. "The organic partnership between mix1 and the Performance Advisory Board will allow us to better meet the needs of athletes by providing us with the information we need to create products that allow endurance and high performance athletes everywhere to perform at the highest level. The board will also act as a multi-faceted resource for athletes and trainers by providing advice about strength training, endurance training and sports nutrition."
Members of the mix1 Performance Advisory Board are professionals with the highest credentials in various fields related to Sports Performance and Sports Nutrition. Steve Hess is the head of strength and conditioning for the Denver Nuggets. Hess oversees his team's weight training, conditioning, stretching and nutritional programs. He is also a part owner of FORZA fitness and performance center and is one of 10 trainers worldwide who sits on the Under Armour training council.
David Page is the head of strength and conditioning for the Boston Red Sox. He has 13 years of experience in professional baseball as a strength and conditioning coach, including 9 at the major league level, and was named professional Baseball Strength Coach of the Year in 2007.
Bob Seebohar has been a competitive athlete for over 30 years and is a Board Certified Specialist in Sports Dietetics, the former Director of Sports Nutrition for the University of Florida and most recently served as a sport dietitian for the US Olympic Committee. Bob traveled to the 2008 Summer Olympic Games as a sport dietitian for the US Olympic Team and the personal sport dietitian for the Olympic Triathlon Team. Bob has a bachelor's degree in Exercise and Sports Science, a master's degree in Health and Exercise Science and a second master's degree in Food Science and Human Nutrition. He is a registered dietitian, exercise physiologist, Certified Strength and Conditioning Specialist and a High Performance Triathlon Coach.
Along with being a competitive triathlete and the founder and chief formulator of mix1, the Chairman of the Advisory Board, Dr. James Rouse is a professional nutritionist and naturopathic Doctor whose credentials include a doctorate in naturopathic medicine, post doctorate work in acupuncture and Chinese medicine, a BA in transpersonal psychology and certification as a yoga teacher. Dr. James hosts Optimum Wellness TV news segments, "Wellness Wednesday" and "The Fit Kitchen," which air weekly on Denver's NBC affiliate, and "Living Well," which airs weekly on the CBS affiliate in Los Angeles and has authored several books on nutrition and health and wellness.
All members of the mix1 Performance Board share a passion for sports nutrition and a commitment to helping athletes perform at their best through improved training and nutrition.
About mix1®
mix1® is a beverage company dedicated to changing people's lives by promoting athletic performance and overall health through all-natural products that deliver truly functional nutrition. mix1's current product portfolio consists of the All-Natural Protein Shake (an all-natural pre/post workout drink available in mix berry, blueberry-vanilla, mango, strawberry-banana, and peach) and the Lean Performance Shake (a low calorie, all-natural pre/post workout drink available in acai-pomegranate and orange-twist). Dr. James Rouse, N.D., Greg Stroh and Wes Brasher, co-founded the company in Boulder, CO in 2006 based on inspiration from the active, healthy lifestyles they enjoy in their home state. All mix1 products are offered in 11-ounce bottles and are sold nationally at Kroger, Whole Foods Market, Publix, Stop & Shop, Vitamin Shoppe, and many other grocery retailers across the United States. For more information, please visit http://www.mix1life.com.
###