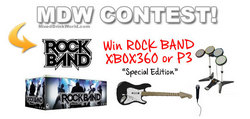 Beverly Hills, CA (PRWEB) December 4, 2007
Another hot contest has been announced at MixedDrinkWorld.com. Mixed Drink World has a large searchable collection of mixed drink recipes and detail instructions how to make mixed drinks and cocktails. Like the Caribou Lou recipe, Italian Apple Martini and the famous Long Island Ice Tea for examples. They have just announced a holiday contest for the member that submits the most new mixed drink recipes or cocktail recipes. But this time are you ready to Rock?
We know you want to rock. They are giving away Rock Band Special Edition for Xbox360 or Playstation3. This game is revolutionary and very fun to play, it is a must have for anyone that wants to rock or party with their friends. The official special edition comes with the game, guitar, drum kit and microphone. It's a very simple contest here is how it works. The details of the contest are as follows
1. Sign Up a free MDW Account and fill out your public profile page.
2. Submit as many recipes as you can from now until December 31st 2007.
3. Each recipe must be a new mixed drink recipe not listed already at MDW.
The member who submits the most submitted authorized mixed drinks recipes at the end of the contest will win the prize, an XBOX 360 or Playstation 3 Rock Band Special Edition (winners choice of either platform) and free shipping within the continental US*. Any current or new member is eligible to win. Each mixed drink recipe will be reviewed before inclusion as an official entry. They will keep track of all members entries and total number of recipes. The member stats for submitted recipes will be publicly disabled for the duration of the contest (each member can review their own stats within their profile) and will be displayed upon the announcement of the winner on January 1 2008. See website for more details and restrictions.
About Mixed Drink World
MixedDrinkWorld.com is a large searchable collection of mixed drink recipes. Including detail instructions how to make mixed drinks and cocktails. The site has many features that include member profiles and messaging and rating system for all drinks and members.
For more information visit: MixedDrinkWorld.com
###