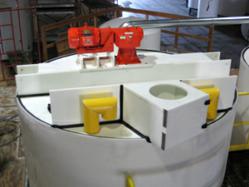 I love the programmable variable frequency drive on your mix tank systems!
Cleveland, Ohio (PRWEB) January 03, 2012
The new MT industrial mixing tanks from Protectoplas include standard sizes covering batches from 30 to 8000 usable gallons. Protectoplas can also provide custom sizes for larger or smaller batching requirements. The mix tanks are constructed from high density polyethylene (HDPE) resin for its outstanding chemical resistance. The mixing tanks include an integral HDPE mixer support system that provides easy access along with a low profile to save vertical space.
The tanks are designed for indoor or outdoor use, and Protectoplas mixers feature crucial components from State Electric and Baldor™ motors. Variable Frequency Drives (VFD) are standard with packaged mix tank systems, allowing full control of motor speed, and adjusting for varying viscosities. Customers frequently call to say, "I love the programmable variable frequency drive on your mix tank systems!"
All wetted mixer parts are T316 Stainless Steel, and Protectoplas offers several coating options for harsher chemicals. Gear reduction, totally enclosed, fan-cooled mixer motor options, and agitators are also offered. Mixer gear reduction is standard on tanks larger than 500 gallon capacity. Standard agitators included with packaged systems cover viscosities from 0-300 Centipoise, but can be tailored to specific customer requirements.
After years of development and tracking customer feedback Protectoplas is pleased to announce the MT mixing tank line. This product can handle batch sizes from 30-8,000 usable gallons, while still offering larger, and smaller, custom sizes to fit any requirements . Pre-engineered to handle a wide range of applications, robust industrial design, along with a quick and easy set up make the MT ideal for any company in today's market. The following highlights some key features of the standard design.
About Protectoplas
Protectoplas began in 1962 as the fiberglass tank manufacturer Protective Plastics Company. In the 1970's, as rotationally molded tanks became more desirable storage solutions, Ebco Inc was formed to branch out into this emerging market. Protectoplas was created to handle all of the heavy industrial fabrication of tanks and products out of new materials such as HDLPE, Polypropylene, and PVC.
The company offers a wide range of products backed by years of field service and experience. Our welded flanges, MT mixing tank line, DW double walled tank line, Bleach-Guard System, AG-TANK II™, and custom fabrication abilities make Protectoplas an ideal source for local and global companies seeking chemical resistant parts. The 50,000 sq ft fabrication facility in Streetsboro Ohio allows for a vast range of abilities to service any size project while also providing indoor storage for our inventory of chemical storage and blending needs.
For more information on Protectoplas products and services, please call 800.525.2661 or visit http://www.mixtanks.net.
###