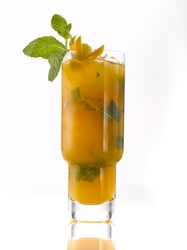 It's a matter of training the palate to pick up various flavors and aromas that pair well together with not only the fruit and herb, but also the floral notes in the liquor.
New York, NY (PRWEB) August 27, 2008
It is no surprise that fresh fruits and fresh ingredients have been popping up on cocktail menus throughout the country. Fresh ingredients are no longer being used just during the summer months; they are being used to create better tasting and healthier cocktails year round.
"As a mixologist I have spent years working, with bartenders and customers that want to make their own drinks at home, with pre-arranged fruit and herbal pairings that work masterfully for cocktail combinations," says Junior Merino. "I grew up in the kitchen as a young boy and have spent years working on and perfecting the taste profiles among fruits and herbs. Below is a list of the top ten fruits and herbs as well as the 5 Elements to Creating a Well Balanced Cocktail, provided by Merino.
Fruit + Herb:
Strawberry + Basil
Pineapple + Mint
Kiwi + Thyme
Blackberry + Oregano
Cucumber + Cilantro
Cantaloupe + Dill
Pear + Sage
Watermelon + Shiso
Pink Grapefruit + Tarragon
Green Apple + Parsley
"As the Liquid Chef, I spend time in the kitchen tasting pieces of fruit and pieces of herbs and pair them together until I find the right taste profile," Merino says. "It's a matter of training the palate to pick up various flavors and aromas that pair well together with not only the fruit and herb, but also the floral notes in the liquor."
He continues, "There truly are limitless fresh fruit and herbal combinations, but it is always important to remember that balance is key in every cocktail. The 5 tips below help to incorporate my beliefs into each cocktail that is made. A guest should have a memorable experience in which they not only get to enjoy a great drink and dish pairing, but they also walk away with a new understanding of gastronomy and mixology."
1.VISUAL: The fruit and herb combinations that are chosen not only compliment each other in taste but they also complement in beauty. This is the first point of impact. A beautiful drink excites the senses.
2. AROMA: 90% of the taste of the cocktail comes from the smell. The better the fruit and herbal combination the better the overall taste of the drink.
3. TASTE: This is simply the confirmation of the first two elements.
4. HARMONY: The satisfaction that everything is in balance and that no adjustments need to be made. All elements are balanced: liquor, citrus, sweetener, texture, fruit, and herb
5.HUMAN ELEMENT: Just as a chef considers cooking as a labor of love and when cooking from the heart food just simply tastes better, mixologists take the same pride in their cocktails. If you take the time to make a drink correctly (with balance and proper measurements) your customers and friends will enjoy a fantastic cocktail.
Below are two recipes that exemplify perfect balance among liquor, fruit, citrus, and herb:
Strawberry + Basil Caipirinha
2 oz Leblon Cachaça
3/6 Lime
1 Strawberry
2 Sweet Basil leaf torn into pieces
3/4 oz simple syrup
Passionfruit/Pineapple + Mint Caipirinha
2 oz Leblon Cachaça
3/6 Lime
3 Chunks of Pineapple
¾ oz Passion Fruit Puree
¾ oz Agave Nectar
6 pieces of mint
It is no surprise master mixologist Junior Merino has built his career on fusing exotic, unexpected flavors: He grew up in the culinary melting-pot of Central Mexico. Beginning when Junior was just 10, his food-loving parents taught him to cook with local produce ranging from indigenous cocoa beans, to pomegranates native to the Middle East, to cilantro, which has Mediterranean roots. Despite all these foods' varied origins, Junior saw that in combination, they created harmony--planting in him an early passion for culinary mestizaje. It's a technique that's helped Junior rise quickly in his field along with his intense work ethic.
In 2006, Junior decided to create a company that would focus nature's bounty into creative and one of a kind drinkable masterpieces as well as unique mixers, syrups and salts. The Liquid Chef, Inc. was founded to educate, create new experiences, and to show case the artistry and mixability of ingredients and liquors from all over the world. In 2008, Junior Merino added The Liquid Team, Mixologists which he trained to execute his vision, philosophy and his passion.
Always eager to share his extensive knowledge of spirits and ingredients, Junior has been featured in Gourmet, Marie Claire, Time Out, Latina, the New York Times, Women's Wear Daily, and New York Magazine, among many others, and has appeared on BBC Radio, Martha Stewart Radio and Televisa.
Taste the Art. Drink with all your Senses.
Contact:
Jaime Keller
Leblon Cachaça
786-333-3869
jkeller @ liveloveleblon.com
wwwliveloveleblon.com
# # #