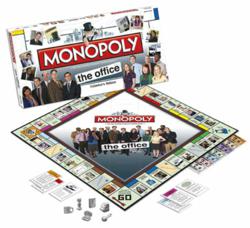 We chose MJD Interactive Agency because of their complete package; 'A' team talent, expertise, enthusiasm, and commitment.
San Diego, CA (PRWEB) April 28, 2011
USAOPOLY™, developer of some of the world's best known games including Nintendo MONOPOLY®, Disney Cranium®, The Beatles Trivial Pursuit, Family Guy CLUE® and Hello Kitty YAHTZEE® has chosen San Diego based MJD Interactive Agency to design their new consumer website focused on selling their games online with new E-Commerce functionality. Several agencies were considered, with MJD being chosen in the end because of, in the words of Jeanette Best, Marketing Manager, "their complete package; 'A' team talent, expertise, enthusiasm, and commitment."
"We are very excited to be working with USAOPOLY on their new Drupal based E-Commerce and corporate web presence. USAOPOLY is an incredibly creative, fun company that creates some of the best known and loved games in the world. I heard no arguments from the staff when I open up Tim Burton's Nightmare Before Christmas Monopoly game in the conference room for "research," said Jeremy Duimstra, Co-Founder of MJD Interactive Agency. "We're going to be able to harness some of the newest technology in the world of web development to make their site as interactive and fun as their wonderful games are. This will be one of the first larger scale Drupal 7/Drupal Commerce implementations in the E-Commerce space."
"With the Discovery stage already completed, MJD has reinforced that they are the right fit with their work style and passion for this project. We have no doubt that MJD is the best choice," said Jeanette Best, Director of Marketing for USAOPOLY. "Their dedication of not just building a website, but building the right site for the right audience is crucial. We look forward to launching the site for the fans before the holiday season."
About USAOPOLY:
USAOPOLY, Inc. is a leading specialty market game developer offering the world's best known games (under license from the Entertainment & Licensing Division of Hasbro) with the hottest licenses. USAopoly™ brings to market this year themed MONOPOLY® including Pirates of the Caribbean, Nintendo®, Muhammad Ali, The Muppets, AC/DC and Hello Kitty Collector's Editions; SCRABBLE® Cooking Edition and Gardening Edition; CRANIUM®: Disney Family Edition and Glee; OPERATION®: Family Guy™ Collector's Edition; TRIVIAL PURSUIT®: Classic Rock and The Beatles Collector's Editions; CLUE®: The Office and Family Guy Collector's Editions; RISK®: Halo Wars™ Collector's Edition; YAHTZEE®: Glee, The Three Stooges and Super Mario Collector's Editions; and JENGA®: Tim Burton's The Nightmare Before Christmas and Donkey Kong™ Collector's Editions. For more fun and games check out http://www.USAopoly.com. USAOPOLY is a trademark of USAOPOLY, Inc.
About MJD Interactive Agency:
MJD Interactive Agency specializes in web development, online marketing, and technology solutions. Areas of expertise include design, user experience, mobile application development, Drupal, Joomla, Sitecore and Sharepoint. Online Marketing strengths include Search Engine Optimization, Paid Search, Social Marketing and Analytics. Web Development and Online Marketing is both an art and a science. MJD's award winning design and marketing teams work closely together to ensure that the creative sparkles and the campaign performs - meeting or exceeding your specified goals. We believe our job is to create demand. To drive response. To deliver results. Our success is based on your success.
# # #