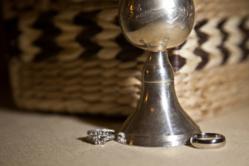 Every one of these three wedding photos would make a beautiful cover for our The Modern Jewish Wedding E-Zine. I look forward to seeing what our readers and fans will choose as their quintessential 'modern Jewish wedding.'
Austin, TX (PRWEB) October 04, 2012
A top online destination for brides and grooms planning a Jewish wedding or a wedding with Jewish touches, Modern Jewish Wedding.com today announced two beautiful brides and a bride and groom couple as finalists for the cover of its first E-Zine, The Modern Jewish Wedding, a Jewish bride's guide to the Chuppah, to be published later this month.
Newlyweds, brides-to-be, friends and fans are invited to vote on their favorite "cover couple" or "cover bride" at ModernJewishWedding.com or on Facebook. The contest is open until October 9, 2012, when the cover image with the most votes will be selected as the cover for The Modern Jewish Wedding E-Zine.
Michele Schwartz, CEO, Jewish life cycles expert, creator and editor-in-chief of The Modern Jewish Wedding, is publishing the E-Zine for brides, grooms, and all who love weddings. She wants to inspire Jewish brides, their families, event planners and caterers with easy access to photos, ideas and advice for planning Jewish weddings or interfaith wedding celebrations with touches of Jewish traditions.
"Modern Jewish Wedding selected each of these finalists' weddings as features on our website because they represent a unique expression of their Jewish heritage," Schwartz says. "These brides and grooms were able to personalize their weddings in a beautiful way that honored their relationship and their families."
Available on October 15, The Modern Jewish Wedding E-Zine features five different Jewish weddings, including a destination wedding, interfaith wedding, as well as an orthodox, reform and conservative wedding. Guest columnists include Chris Easter of TheManRegistry.com.
"Every one of these three wedding photos would make a beautiful cover for our new E-Zine," Schwartz added. "I look forward to seeing what our readers and fans will choose as their quintessential 'modern Jewish wedding.'"
"I love every part of the Jewish wedding," says Rabbi Elizabeth Dunsker at Congregation Kol Ami, Vancouver, Wash. "The circling which focuses the couple on each other and always seems to quiet and calm the guests. The progression of blessings from the general to the specific, the vows of taking each other as a husband or a wife according to the laws of Moses and Israel, the simplicity of the Jewish wedding ring, the symbol of the chuppah, the legality and formality of the ketubah, and especially the joy and shouts of mazal tov at the breaking of the glass. I believe the whole ceremony is perfectly composed to impart holiness, commitment, awe, and joy from start to finish,"
About The Modern Jewish Wedding
Created by "Chief Event Organizer" Michele Schwartz, an expert on Jewish celebrations and ceremonies, ModernJewishWedding.com helps Jewish brides, grooms, families and event planners create once-in-a-lifetime celebrations with meaningful observances. Whether brides and grooms want a traditional Jewish wedding celebration or a wedding with Jewish touches, The Modern Jewish Wedding shows them how to combine the newest visual design and special event trends with beloved and hallowed Jewish traditions. Modern Jewish Wedding features photos and stories about real weddings, ideas, resources, and inspiration to create a wedding that reflects a couple's unique personalities and relationships. Its first E-Zine, The Modern Jewish Wedding, a Jewish bride's guide to the Chuppah, will launch in October 2012.
Credit: Wedding photography by Terrence Bishop, Stephanie Reinish, and Richard (Nathan) Bell.
###