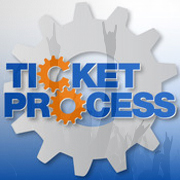 (PRWEB) July 04, 2012
It seems like just a few weeks ago that the pitchers and catchers were arriving to spring training, and now the 2012 MLB All-Star game is only a few days away. The annual summer celebration of the sport's best and most accomplished athletes is a true treat for the fans, and those that are interested in buying MLB All-Star Game tickets and seeing the historic action unfold in person are wise to visit TicketProcess.com at their earliest convenience.
With a bevy of available tickets to the 2012 MLB All-Star Game at Kauffman Stadium in Kansas City, TicketProcess.com is sure to be a busy online ticket destination for the next week. Lucky for the fans, the website presents a seamless and simple way of procuring tickets, and all purchased are assured by a 125% money-back guarantee.
In an attempt to give the game more purpose, Commissioner Bud Selig announced that the winner of the All-Star game will also be the league that gets home-field advantage in the World Series nearly a decade ago. The 2012 starting lineups and reserves were recently announced for both the National and American Leagues, and naturally, a number of controversies instantly arose. As is custom, the two managers that participated in the World Series from the prior year are automatically the skippers of their league's All-Star team this year. The system has been heavily criticized in the past week in light of the fact that now-retired manager Tony LaRussa will be dusting off his cleats and making decisions that will have an impact on the home-field advantage of this year's postseason. In short, the drama of the game has begun before the stitching of the names on the uniforms has been completed.
As is always the case, the All-Star Game is an International showcase of the best baseball players in the world. Other festivities such as a home run derby and a legends softball game have been introduced to give fans that may not be able to get their hands on 2012 MLB All-Star Game tickets an opportunity to see great feats up close and in person. A few players that are sure to draw a lion's share of the attention in this year's game include American League sluggers Josh Hamilton and Prince Fielder, as well as National League aces Matt Cain and R.A. Dickey.
Starting pitchers typically throw only one or two innings in an All-Star game, meaning that those in attendance will have the chance to see no less than a dozen of the best hurlers in the game. TicketProcess.com can also be easily accessed by using the Android Marketplace or iTunes, and the site recently received a rave review from Yahoo News and a 5-star rating from Google. In short, you can peruse and purchase tickets from TicketProcess.com with the utmost confidence.
Other HOT summer events Include Tickets For MLB Baseball & NCAA College Football Tickets