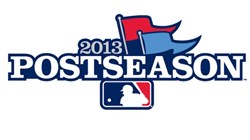 (PRWEB) October 09, 2013
Holding out on buying Dodgers tickets until their opponent and the order of games is announced for the National League Championship Series? With the quick turnaround between the division and championship series of the MLB playoffs, it can sometimes be confusing to purchase tickets. SuperStarTickets.com hopes to clear the air, making the ticket-buying process convenient and easy for MLB fans.
In the two Championship Series of the MLB playoffs, teams pitted against one another play in a 2-3-2 format, with the higher seeded team getting home field advantage first. In some cases this can mean the official schedule and dates aren't confirmed until just a couple days before the first game of the series. That's currently the case with the National League Championship Series. The Los Angeles Dodgers are confirmed, but their opponent is dependent upon the outcome of the Pittsburgh Pirates vs. St. Louis Cardinals game played later tonight. Similarly, though the Boston Red Sox are confirmed for the American League Championship Series, they are still awaiting the outcome of the Detroit Tigers vs. Oakland Athletics series.
Some fans may hold back on buying tickets until the schedule is confirmed, either to fit with their own schedule or because they're cautious of buying tickets where the date has yet to be announced. What makes ticket buying for the MLB postseason convenient is that tickets are sold by game number, not by date. What this means is, if a fan buys a ticket for the Dodgers NLCS home game 2, that game could play on Saturday October 12th or on Tuesday, October 15th—depending on who their opponent is. That ticket will be valid for the Dodgers NLCS Home Game 2 regardless of the final scheduled date. In the case of fans purchasing playoff tickets for later games that are not guaranteed, there is no need to worry, refunds will be issued for any games that do not occur.
SuperStarTickets.com seeks make the ticket-buying process convenient for MLB fans while clearing possible confusion. They have an extensive stock of MLB tickets in addition to nationwide sports, concert and theatre tickets. Through the month of October, they are offering a 5% discount on MLB tickets with the code MLB2013.
Source: 2013 MLB Postseason Schedule
http://mlb.mlb.com/mlb/schedule/ps.jsp