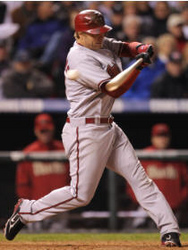 It's great to be able to put in a good word for a product I really believe in
Manasquan, NJ (Vocus) August 25, 2009
August has been a busy month for Mark Reynolds, the National League's hottest-hitting third baseman. The Arizona Diamondbacks' superstar is engaged in a heated battle for the MLB home run leadership with all-world slugger Albert Pujols of the St. Louis Cardinals (Pujols currently leads 39 to 38, putting both men on a pace for 50+ homers this season). Reynolds was just named National League Player of the Week for the week ending August 10th (his second such honor this year). And now his high-profile on-field heroics have earned him another choice reward: a promotional deal with the makers of his favorite protein bar, Supreme Protein®.
"It's great to be able to put in a good word for a product I really believe in," says Reynolds, the newest member of the protein bar makers' Team Supreme. "When you spend a significant amount of your time on the road during baseball season, getting enough protein to help support and repair lean muscle growth can be a challenge. Every Supreme Protein bar gives me thirty grams of a premium protein blend, powered by whey isolate. That's an important nutritional edge against muscle wear and tear over a long season."
Taste is a big issue for Mark, as well. "The flavor and texture of the Supreme Protein bars is just out of this world," he emphasizes. "With other bars, I never wanted to eat them, which leaves you tempted by other higher-carb, less nutritious alternatives. The Supreme Protein bar tastes better than any candy bar I've ever eaten. The flavor is sensational and each one has all the ingredients I need to perform at a high level."
This year, Mark Reynolds' usual stellar level of play has risen into the stratosphere. Hitting the ball at a torrid clip since the All-Star break, Reynolds has solidified his station among the game's elite third basemen. His stat line in late August (38 HRs, 83 RBI, a .281 BA) has many observers comparing him to the likes of fellow third basemen Alex Rodriguez of the Yankees, David Wright of the Mets, and Evan Longoria of the Tampa Bay Rays. In addition to ranking second to Pujols in HRs, he's among the top five in total bases (266), extra-base hits (63) and slugging percentage (.598). To top it all off, Reynolds' recent 481 foot blast off Phillies closer Brad Lidge is unofficially the longest shot in Major League Baseball this season.
Reynolds, who just turned 26 years old earlier in August, says he has never felt better or stronger than he has this year. Much of the credit for his physical conditioning goes to an extensive and precision-targeted workout program, with a little assist from his favorite protein bar. "It's a long season, and it's important for me to support lean body mass and weight so that I can maintain my strength and stamina," Mark says. "Supreme Protein gives me the protein and nutrients that I need to recover from workouts faster and to maximize performance on the field. I definitely always carry a few Supreme Protein bars in my equipment bag wherever I go."
###