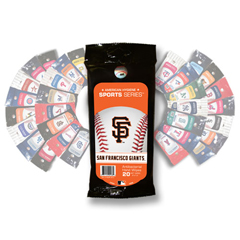 Our MLB Antibacterial Wipes are a fun way to get behind your team and also keep your hands clean
San Mateo, CA (PRWEB) July 09, 2013
The Betty Mills Company ® one of the nation's leading online B2B shopping destinations, and famous for its Snack Rewards™ loyalty program, today announced the launch of a line Major League Baseball Antibacterial Wipes in all 30 MLB teams.
"We are excited to bring this new product line to our customers," said Victor Hanna, CEO of BettyMills.com. "Our MLB Antibacterial Wipes are a fun way to get behind your team and also keep your hands clean. They are great to take along anywhere you go."
"There is a team available for everyone and the product is made of real cloth material, enriched with Aloe & Vitamin E, and are alcohol free," said Hanna.
The wipes come packed 24 per case, are sized 6" by 7.5" and have a botanical scent and are available at BettyMills.com.
About Betty Mills
The Betty Mills Company® is a leading B2B e-commerce company and one of America's leading suppliers of cleaning, facility, MRO, break room, office snacks and health and wellness products. Offering over 100,000 brand-leading products shipped right to your door from over 55 U.S. warehouse locations.
With Betty Mills everyday low prices, Snack Rewards™ Customer Loyalty Program and Double Markdowns® Specials, Betty Mills offers a comfortable and easy online shopping experience for everyone who likes to buy smart and save big! Betty Mills Company's headquarter is located in San Mateo, CA. For more information, please visit BettyMills.com.