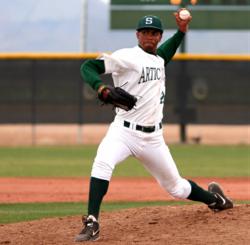 Tempe, AZ (PRWEB) June 13, 2013
Nine current or former Maricopa Community Colleges' players have been selected among 1,216 players in the first forty rounds of
this year's draft.
With their professional season well under way, Major League Baseball (MLB) teams took part in an annual ritual earlier this week: the first-year player draft.
The Baltimore Orioles used the 98th overall pick to select Stephen Tarpley, a lefty pitcher out of Scottsdale Community College. An early round choice for the Cleveland Indians in 2011, Tarpley played for Southern California to start his college career.
After one season at USC, he transferred to Scottsdale Community College to be closer to his Phoenix home, which made him eligible for this year's draft.
At SCC, Tarpley went 3-2 with 15 starts and a two-inning bullpen appearance. He struck out 108 batters in 92 innings and walked 40. As a freshman at USC, Tarpley went 5-3 with 3.22 ERA in 14 appearances, including 13 starts; he didn't surrender a single home run in a 78-inning stretch. He struck out 67 batters and walked 29. Tarpley, who's 6-foot-2, 190-pounds, has a fastball that currently tops out at 94 mph.
GateWay
Josh Melendez, CF (37th round), Houston Astros (via UNM Lobos)
Contact: Carlos Samano, 602.286.8231
Glendale
Dylan Brock, RHP (34th round), Milwaukee Brewers
James Lynch, RF (36th round), Los Angeles Dodgers
Contact: Tressa Jumps, 623.845.3809
Mesa
Darian Johnson, OF (32nd round), Chicago White Sox (via Lamar Cardinals)
Contact: Sally Mesarosh, 480.892.1393
Paradise Valley
Mikey Reynolds, SS (5th round), Atlanta Braves (via Texas A&M Aggies)
Contact: Candace Oehler, 602.787.6606
Scottsdale
Stephen Tarpley, LHP (3rd round), Baltimore Orioles
Sebastian Kessay, LHP (22nd round), Houston Astros
Contact: Jonathan Higuera, 480.425.6637
South Mountain
Chris Freudenberg, LHP (8th round), Chicago White Sox
Scot Hoffman, RHP, (36th round), Pittsburgh Pirates
Contact: Eva Bowen, 602.305.5806
South Mountain pitcher Chris Freudenberg was chosen in the 8th round by the Chicago White Sox. The left-hander held a 2.72 ERA in 16 appearances and struck out 96 batters in 76 innings. He amassed a 5-6 record as a starter and also saved three games this season.
Darian Johnson, a two-time All-American with Mesa Community College in 2010-11, was chosen by the Chicago White Sox in the 32nd round. At MCC, Johnson – an outfielder – had a .413 career batting average with 21 doubles, 20 triples and 43 stolen bases at MCC. After MCC, the Chandler native then moved on to Lamar University in Beaumont, TX. He had a .344 average as a junior and .371 as a senior, leading the team. He was selected to the first-team all-Southland Conference before being drafted by the White Sox this year.
###
The Maricopa Community College system includes 10 regionally accredited colleges – Chandler-Gilbert, Estrella Mountain, GateWay, Glendale, Mesa, Paradise Valley, Phoenix, Rio Salado, Scottsdale and South Mountain. It also includes the Maricopa Skill Center, Southwest Skill Center, and several satellite campuses and business/industry, technical and customized training institutes.