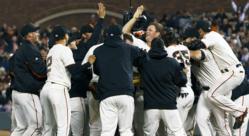 Pittsburgh, PA (PRWEB) October 05, 2012
Starting Friday October 5th a new MLB Playoff structure will begin. A second wildcard team was added for 2012 MLB Playoffs where the two wildcard teams will square off in sudden death game where the winner moves onto the Division Series and the losing teams goes home.
The National League opening series features the St. Louis Cardinal at the Atlanta Braves with the first pitch scheduled at 5:00 Eastern Standard Time. The pitching match up is Kyle Lohse for the Cardinals and Kris Medlen for the Braves.
In the night cap the American Wildcard game is schedule to start at 8:30 Eastern Standard Time where the Texas Rangers will host the Baltimore Orioles. The Rangers will go with Japanese import Yu Darvich whereas the O's have yet to announce their starter.
On Saturday October 6th, Detroit Tigers will host the hottest team in baseball the Oakland A's. Justin Verlander will throw the first pitch at 6:00 PM Eastern Standard Time. In the night game out in San Fransisco, the SF Giants will dual against the Cincinnati Reds scheduled for 9:30 PM EST.
The rest of the MLB Playoffs schedule starts on Sunday where American League East champion New York Yankees will play the winner of the AL Wildcard game and the Washington Nationals will play the winner of the NL Wildcard game. Times have not been announced.
MLB Playoff tickets will be a hot sell and fans who want to be up close and personal will be looking at the secondary tickets exchange for the best seats in the house. These playoff tickets will not be cheap and it behooves fans to shop the ticket websites. Only at HeadlineTickets.com will fans find the guaranteed lowest out the door prices after fees and delivery have been added. Simply compare.
Headlinetickets.com is one of the most popular secondary ticket websites on the Internet. They have affordable sports, theater, and concert tickets across the United States and Canada all without service fees. Headline Tickets Now is an accredited business with the Better Business Bureau (BBB) of Western Pennsylvania.