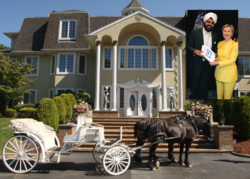 Network Marketing is the business of the 21st Century
(PRWEB) May 30, 2013
Dr. Harsimran Singh has released his most recent of twelve books, "We Create Millionaires: 20 Steps to Network Marketing." Dr. Singh has witnessed first-hand the profits and other benefits that network marketing can bring into one's life. An avid entrepreneur, he is part of one of the fastest growing network marketing companies in the world.
Network marketing, or direct selling as it is also known, is the leading source of sales for both product and service-based companies. It works on the basis of referral marketing, emphasizing the relationship a salesman has with their friends and relatives, or their customers. Unlike advertising to the "cold market" through TV ads, direct mail and other forms of advertising, network marketing is significantly less costly for the advertiser and more productive. Additionally, the sales agents, or network marketers are typically better compensated for the sales they make as the company does not need to spend as much money to advertise their product.
Multi-level marketing (MLM), or network marketing, companies also provide their representatives, or independent business owners, an opportunity to build a sales team from whose sales they would benefit from. For individuals who are not experienced in business, this is a great opportunity to learn from successful partners in their company on how to build their own business.
Upon becoming a representative in the network marketing company, Dr. Singh quickly noticed that the system it had set up could be easily duplicated by anyone - from a long-time business owner to an 18-year old college student. From his own successes and mistakes, Dr. Singh has composed "We Create Millionaires" to offer network marketers additional tools to becoming successful.
"It takes a strong, positive, and relentless mindset to be successful in any business," Dr. Singh states. "Network marketing is no different".
ABOUT DR. SINGH
Dr. Singh has authored a dozen inspirational books, five of them being on 10 world religions including spirituality in Christianity. His rags-to riches story has been published in The NY Times, NY Post and many other publications. He has also been featured on radio and national TV including Fox News, CBS and others.