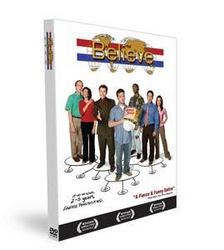 We've shown this film to many people who have been deeply involved in various network marketing companies and without fail they say how accurate, in fact frighteningly so, we are in our treatment of the characters and events. But at the same time they also make note of how funny the movie truly is
Salt Lake City, UT (PRWEB) May 27, 2008
MLM mockumentary "Believe the Movie" has been released on DVD. The movie pokes fun at the multi-level-marketing (MLM) industry.
Believe is a comedy, satire, mockumentary movie about network marketing. Network-marketing, or multi-level-marketing, is parodied in the film. It follows the adventures of distributors from a make believe MLM business like those found in businesses like: Amway, NuSkin, Xango, Noni, Usana, Herbalife, Pre-Paid Legal, ACN, Avon, and Mary Kay.
Writer and director Loki Mulholland is a former Amway distributor, who tried to make money for 4 years. "I was one of those gung-ho distributors who listened to the tapes and went to the conventions. I did it all ... except make money. Little did I know that you have better odds winning in Vegas than you do succeeding in multi-level-marketing," said Mulholland.
Not only does the film include Mulholland's experiences, but shows many different people and their experiences with MLM. "It's a light-hearted comedy about the business in a way that MLMers can get a good laugh as well as those who oppose MLMs. But there's a lot of truth to the movie as well," he notes.
Believe is set in the anywhere town of Springfield and follows the life of Adam Pendon (played by Larry Bagby, Walk the Line), a laid off steel mill worker who must find a new way to provide for his family. He got introduced to Believe Industries, a multi-level marketing company, by an overzealous recruiter, Mark Fuller (played by Lincoln Hoppe, Saints and Soldiers). The movie follows the "unique" lifestyles of several different "Believers" (Believers are distributors who work for Believe Industries).
"The main reason for the film, is to entertain people, to have fun and make a light-hearted comedy. I guess you can also consider it a form of therapy for MLMers too," says Mulholland.
Believe appeared in numerous film festivals around the country and won three Audience Choice Awards.
A songwriter first, (four of his songs are on the movie soundtrack) Mulholland eventually wrote a song titled, Believe. The catchy hook and inspirational lyrics put the goal in Mulholland's mind to market this song to a multi-level marketing company. Although that didn't happen, Mulholland's original song is sung in the movie by Graham Russell of Air Supply.
Although some network marketing companies weren't excited about Believe (the filmmakers were threatened with a lawsuit) most people recognize the lighter side of the movie.
"We've shown this film to many people who have been deeply involved in various network marketing companies and without fail they say how accurate, in fact frighteningly so, we are in our treatment of the characters and events. But at the same time they also make note of how funny the movie truly is," says Micah Merrill, producer.
The DVD includes interviews, behind-the-scenes footage, and even an interview with an industry insider who discusses what's wrong with the industry and right about Believe.
"Believe is just a funny, funny movie. All we ask is that you tell five friends about the movie and then have them tell five of their friends," jokes Mulholland.
For more information about Believe the movie, visit believethemovie.com or visit the new blog at believethemovie.com/blog.
http://www.believethemovie.com
# # #