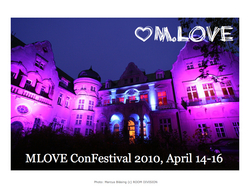 "This is shaping up to be a TED for Mobile" said Harald Neidhardt, Chairman of the Advisory Board of the MLOVE ConFestival and Founder of the MLOVE movement.
(PRWEB) February 16, 2010
MLOVE ConFestival Opens for Registration on Valentine's Day
February 14th, 2010
MLOVE ConFestival Opens with 50% Early Bird Price for Registration on Valentine's Day during Mobile World Congress
A new event in a Castle of Inspiration for things that matter most
Barcelona, Spain February 14, 2010 / http://www.mlove.com - MLOVE announced today a new event exploring inspiration and how mobile will change our future. Registration is now open with a 50% off Early Bird price on the newly designed website at http://mlove.com/register/
"This is shaping up to be a TED for Mobile" said Harald Neidhardt, Chairman of the Advisory Board of the MLOVE ConFestival and Founder of the MLOVE movement.
MLOVE speakers announced
MLOVE is proud to announce a stellar line up of disruptors, visionaries and Entrepreneurs:
Ondi Timoner, Director, two-time Winner, Sundance Film Festival
Marc Milau, Brand Management, BMW
Kei Shimada, CEO, Infinita, Japan
Dawn Danby, TED Global Speaker, Product Lead at AutoDesk
Rupert Daniels, 1Goal, Education Initiative supported Queen Rania of Jordan, President Clinton, Bono & FIFA
30+ Speakers are gathering for the ConFestival from Africa, Europe, Asia and the USA.
"The enthusiasm we have been received from invitees and speakers has been unequivocal. You simply have to be there!" stated Peter Giblin, the Director of the first MLOVE ConFestival.
The first partners of the MLOVE ConFestival include Contagious Magazine - a leading print & online community about digital design, Women 2.0 - the leading Silicon Valley tech entrepreneur group for women, and ribot - a boutique digital and mobile design agency.
Context
It is time for the mobile industry to get out and meet with the real world. As Mobile can provide ideas and solutions for the people in all aspects of their lives, MLOVE calls on the leaders of the Mobile world to broaden their horizons.
The MLOVE ConFestival provides a unique setting for Mobile leaders to collaborate with artists, musicians, scientists, architects, and the like, to explore how mobile can drive positive change in the world.
The ConFestival is set for April 14-16, 2010, in a castle south of Berlin, Germany
The first MLOVE ConFestival will combine a new way of sharing inspiring stories, innovation, leadership and entrepreneurial success from around the globe. The invite-only event takes place in a 100-room castle, built in 1898, south of Berlin. Built by powerful Freemasons, ex-home to the Governor of Saxony-Anhalt, the castle will act as a catalyst for disruptive thinking, big ideas, innovation and inspiration in the context of mobile.
The MLOVE ConFestival is a two and a half day event designed to take you outside of every day thinking; an inspirational experience in a trusted environment. The backdrop is mobile, but the goal is to stimulate new ideas and thinking which you can apply to your life, your business and to inspire others.
How will mobile change your future?
About MLOVE:
The MLOVE tribe started grass roots by an international group of "mobile passionistas" in 2008. Through MLOVE "camps" in Barcelona, San Francisco, Munich, London, New York and Singapore the agenda for MLOVE evolved into more than mobile.
"We are bringing together CXO's, innovators and entrepreneurs from across multiple disciplines to share, learn and cross-pollinate ideas with an array of scientists, artists and other thought leaders," said Peter Giblin, Director of the MLOVE ConFestival. "The event exposes the mobile industry to the best minds outside of mobile to maximize the opportunity of creating life-changing services and applications that can impact our businesses, and ourselves, for the better."
The advisory board to the MLOVE ConFestival 2010 includes: Andrew J. Scott (Rummble), Fee Beyer (T-Mobile), Jonathan MacDonald (JMA), Harald Neidhardt (Smaato & Founder MLOVE), (Vodafone Media Solutions!) and Stefanie Hoffmann (aka-aki). The ConFestival is co-produced for MLOVE by Peter Giblin of Learn.Share.Play and in association with James Cameron of Camerjam (http://www.camerjam.com).
For Information and your request for an invite write to 2010(at)mlove(dot)com or go to http://www.mlove.com -- Follow MLOVE on Twitter: @mlovesociety and hashtag #mlove10
Become a MLOVE fan on Facebook: http://www.facebook.com/pages/MLOVE/202832245694
###