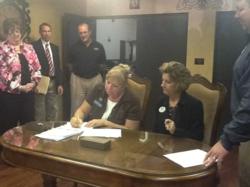 MAITLAND, Fl (PRWEB) January 10, 2013
The Melbourne Area Association of Realtors® (MAAR) has signed an agreement to become the 16th Shareholder of My Florida Regional MLS (MFRMLS). MFRMLS Shareholders actively participate in shaping MFRMLS policy and strategic direction to benefit the subscribers of MFRMLS and the real estate community.
MAAR, which has approximately 1,500 Realtor® members, will officially participate in the governance of the organization effective immediately and its members will access the MFRMLS listing database this summer (2013).
With the addition of MAAR to the MFRMLS listing database, MFRMLS will have over 34,500 members who are subscribers to their MLS system and products. MFRMLS is the largest MLS in Florida, with a listing database that covers most of Central Florida, including a core of listings that extend from Southwest Florida to west Volusia County. MFRMLS is also one of the largest MLS companies in the United States.
"We are beyond thrilled to have Melbourne and its members join our MLS family," said Merri Jo Cowen, MFRMLS CEO. "We look forward to providing their members with the highest-level of service in order to add to their success."
Said Barbara Van Dam, 2013 MAAR President: "We are very excited about joining My Florida Regional MLS, and we look forward to providing our members with a superior system and an incredible suite of products to enhance their business, as well as their clients' experience."
About My Florida Regional MLS
Headquartered in Maitland, FL, My Florida Regional MLS (MFRMLS) is Florida's largest multiple listing service (MLS) company with over 33,000 members in 15 central and southwest Florida counties. Owned by 16 Shareholder Realtor® organizations, MFRMLS offers a comprehensive suite of productivity and marketing tools to professionals in the real estate industry. To complement its core residential offerings, MFRMLS operates a commercial information exchange, called My Florida Commercial Real Estate, located at http://www.MFCRE.com. MFRMLS also operates the consumer home and property search website, http://www.MyFloridaHomesMLS.com. For more information, please visit http://www.MFRMLS.com.
About the Melbourne Area Association of Realtors®
The Melbourne Area Association of REALTORS® (MAAR) strives to provide each member with the education, services, and products to be successful in their business. MAAR is headquartered in Melbourne, Fl, which is located in Brevard County. For more information on MAAR, please visit http://www.melbournerealtors.org.