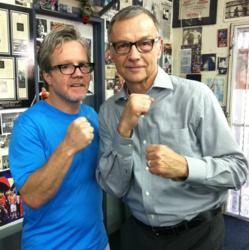 Having Alan Kemp as our boxing coach for the MMA Conditioning Association has been beneficial for everyone involved.
Rancho Santa Margarita, CA (PRWEB) December 22, 2011
With long hair that earned him the nickname of "Pony Boy," Alan Kemp won three Golden Gloves Championships and 12 professional wins as a middleweight boxer in the 1970s. The current boxing coach for the Mixed Martial Arts Conditioning Association (MMACA), Kemp was recently inducted into the Buffalo Boxing Hall of Fame. Inductees are voted on by members of the Ring 44, the Buffalo Veteran Boxers Association.
Kemp started boxing at age nine and turned pro in 1972 with an 81-second knockout of Jimmy Jenkins. After retiring after many successful matches, Kemp wanted to stay with the sport he loved and became a trainer; he is currently a USA Boxing Coach based in Orange County, Calif.
"With Alan's toughness, intelligence and dedication, we couldn't ask for a better boxing coach for our certification program and we're very proud of his induction into the Buffalo Boxing Hall of Fame," said John Spencer Ellis, founder of the Mixed Martial Arts Conditioning Association.
The online MMACA certification program is designed for personal trainers, coaches, martial artists and MMA participants interested in acquiring both athletic and business skills required for successful mixed martial arts coaching, and Kemp focuses on the boxing portion of the program.
Kemp was Introduced to boxing by his father, who taught him self-defense skills after he was picked on by some neighborhood bullies. Kemp added, "As a boxing coach, I strive to bring some of the same passion and dedication to the sport that my father did so generously. I didn't know then that I wasn't only training for boxing – I was training for life. It is quite an honor for me to join such a distinguished array of boxers in the Buffalo Boxing Hall of Fame."
About MMACA
The Mixed Martial Arts Conditioning Association (MMACA) was developed to bridge the gap between sports conditioning science, MMA training methods and direct application from the ring, octagon, mat or cage. The MMA Conditioning Association is the MMA certification division of the National Exercise & Sports Trainers Association (NESTA), a leader in innovative solutions for fitness, nutrition and wellness professionals, as well as club owners since 1992. The MMACA and its staff of educators, exercise physiologists, dietitians, biomechanists, strength coaches, sports psychologists, physical therapists, massage therapists, kinesiologists and business professionals have joined with the world's top boxers, wrestlers, BJJ fighters, Muay Thai fighters, American kickboxers, MMA fighters and coaches to develop a comprehensive MMA conditioning program. For more information about the program, please visit http://www.mmaca.net
###