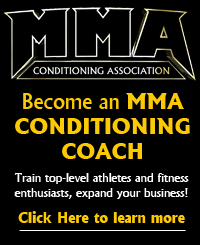 The MMA Conditioning Association is quickly becoming the go-to resource for all things MMA strength and conditioning.
(PRWEB) March 02, 2012
Recently expanding its blog to include a new feature on certified mixed martial arts coaches, the Mixed Martial Arts Conditioning Association's (MMACA) blog now highlights coaches, success stories and new sources of education on mixed martial arts strength and conditioning. Mixed martial arts or MMA continues to skyrocket in global popularity, inciting more athletes and coaches to learn more about MMA certification programs and workouts.
The MMACA certification program, which is designed for personal trainers, coaches, martial artists and MMA participants interested in acquiring both athletic and business skills required for successful mixed martial arts coaching, combines combat drills, plyometrics, mental training, TRX, kettlebells, aerobic and anaerobic conditioning, sports nutrition, flexibility and more.
"Our enhanced blog now gives several amazing certified MMA coaches a place to shine and to share their wealth of knowledge on mixed martial arts training," said John Spencer Ellis, founder of the Mixed Martial Arts Conditioning Association. "We love showcasing these impressive coaches, who offer very useful, creative and effective advice when it comes to mixed martial arts conditioning and events."
In addition to the new certified coaches feature, the MMACA blog includes information on cardio training, partner conditioning drills, mixed martial arts fads and trends, circuit training and much more. The Mixed Martial Arts Conditioning Association also offers a Facebook group with the latest on mixed martial arts at https://www.facebook.com/pages/MMA-Conditioning-Association-MMACA/148108331946791
"As MMA continues to take the world by storm, we look forward to offering more experts, education and enlightenment on mixed martial arts training, certification and participation," Ellis added.
About MMACA
The Mixed Martial Arts Conditioning Association (MMACA) was developed to bridge the gap between sports conditioning science, MMA training methods and direct application from the ring, octagon, mat or cage. The MMA Conditioning Association is the MMA certification division of the National Exercise & Sports Trainers Association (NESTA), a leader in innovative solutions for fitness, nutrition and wellness professionals, as well as club owners since 1992. The MMACA and its staff of educators, exercise physiologists, dietitians, biomechanists, strength coaches, sports psychologists, physical therapists, massage therapists, kinesiologists and business professionals have joined with the world's top boxers, wrestlers, BJJ fighters, Muay Thai fighters, American kickboxers, MMA fighters and coaches to develop a comprehensive MMA conditioning program. For more information about the new blog, please visit http://mixedmartialartsconditioningassociation.com/blog/
###