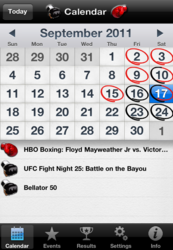 Simple, straightforward and all while having a clean interface. It has all the info and with alerts... Fantastic app! - Jack K. (iTunes App Store Customer)
Los Angeles, CA (PRWEB) January 16, 2012
The iPhone application universe is officially being presented with an original concept that combines the worlds of Mixed Martial Arts (MMA), including the Ultimate Fighting Championship (UFC), and Boxing. The MMAvsBoxing.com Combo Calendar app enables users in an easy to use, yet distinctive, application, which provides MMA and Boxing fans with access to fight event dates, event details, as well as up-to-the-minute fight card information and fight results.
What differentiates this mobile application from others is that it strays away from unnecessary complexities commonly found in other applications, staying focused on the simple questions MMA and Boxing fans have about combat fight events: Who, When, Where, and What Happened?
After the initial soft launch of the application on the iTunes App Store at the end of December, 2011, customers claim that it has "become an essential guide for fight event information" and that they "no longer need to go to multiple websites for the information" (see Customer Reviews on the app page, found on http://itunes.apple.com/app/id483994573 ).
Below are some features of the app, as stated on their website:

Simple, easy-to-use monthly view calendar of events
Information includes event details such as date/time, fight card, & results
Reminder alerts for your favorite events
Color-coding to differentiate both sports
Filter calendar based on preferred sport
Requirements:

Compatible with iPhone, iPod Touch, and iPad
Requires iOS 4.0 or later
Size: 5.1MB
Pricing and Availability:
MMAvsBoxing.com Combo Calendar 1.0 can be purchased for $0.99 USD, and is available worldwide exclusively on the iTunes App Store.
About MMAvsBoxing.com:
Founded in 2010, MMAvsBoxing.com has been involved in the social media world, connecting MMA and boxing fans alike, through social media outlets such as Twitter (@MMAvsBoxing_com). It helps keep combat sport fans informed of, and spread buzz about, news where both sports converge. On Twitter, it coined the hashtag #WhatFansAreTweeting to highlight tweets of fan opinions and rants.
For more information, please contact:
Sy Chakarian
info(at)mmavsboxing(dot)com
Website: http://www.MMAvsBoxing.com
Twitter: http://www.twitter.com/MMAvsBoxing_com
Facebook: http://www.facebook.com/mmavsboxing
###